The House voted this morning to condemn "QAnon and rejecting the conspiracy theories it promotes" on a vote of 371 to 18. Former White House Official Darren J. Beattie pointed out that "127 GOP reps" voted for the bill which meant "More GOP have voted to condemn Q anon than BLM."
On House vote, 127 GOP reps vote to condemn "Q anon and its rhetoric"

More GOP have voted to condemn Q anon than BLMhttps://t.co/dsGpuFBTrQ

— Darren J. Beattie 🌐 (@DarrenJBeattie) October 2, 2020
Georgia Republican Congressional nominee Marjorie Greene, who was mentioned in the Washington Post article as previously making "racist remarks on video" and endorsing QAnon pushed back in a fiery tweet.
She asked, "When will this pathetic Congress pass a resolution condemning Communist Antifa and Marxist BLM?"
Greene pointed out that "They burn cities, violently attack innocent people, shoot police, and cause millions of dollars in damage to businesses and federal property every single day! Congress is failing!"
Greene also shared an article from the Foundation for Economic Education that said that the George Floyd riots caused "record-setting $2 Billion in damage" and that "the true cost is even higher."
October 2, 2020
Democratic rep Tom Malinowski said that he has faced attacks online from QAnon supporters and received threats after the National Republican Congressional Committee ran an ad against him that said he tried to block a provision in a 2006 crime bill that would have expanded registration requirements for sex offenders..
Meanwhile, Greene has faced threats of her own recently.
September 23, 2020
@DrewGriffinCNN
Do you feel better about yourself and your obsession with pushing lies about me?
And everyone else in the media that just keeps regurgitating lies.
All of you are responsible!

— Marjorie Taylor Greene For Congress🇺🇸 (@mtgreenee) September 23, 2020
The QAnon bill that passed in the House listed 6 incidents over a 3 year span as justification for the condemnation.
It also "condemns all other groups and ideologies, from the far left to the far right, that contribute to the spread of unfounded conspiracy theories and that encourage Americans to destroy public and private property and attack law enforcement officers."
The last part of the bill "urges all Americans, regardless of our beliefs or partisan affiliation, to seek information from authoritative sources and to engage in political debate from a common factual foundation."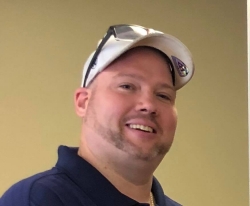 Latest posts by David Caron
(see all)