Country music star Travis Tritt put Anheuser-Busch on notice yesterday and said that he was "deleting" their products from his tour hospitality rider.
Tritt declared in a tweet, "I will be deleting all Anheuser-Busch products from my tour hospitality rider. I know many other artists who are doing the same."
In a follow-up quote tweet, Tritt explained, "Other artists who are deleting Anheuser-Busch products from their hospitality rider might not say so in public for fear of being ridiculed and cancelled."
"I have no such fear," Tritt insisted. U.S. House Rep Marjorie Taylor Greene (R-GA) praised him in response as she told him in a quote tweet, "God bless you @Travistritt."
Greene also retweeted his original tweet explaining his stance.
God bless you @Travistritt https://t.co/59HbHqT4GY

— Marjorie Taylor Greene ?? (@mtgreenee) April 6, 2023
Tritt also took aim at Jack Daniels whiskey and shared an ad from the company showing that they were teaming up with "RuPaul's Drag Race" in a separate tweet.
"All the @JackDaniels_US drinkers should take note," Tritt emphasized to which Greene replied in a quote tweet, "Noted."
Noted. https://t.co/3oHBfbEotA

— Marjorie Taylor Greene ?? (@mtgreenee) April 6, 2023
As we previously reported, the uproar comes after transgender Dylan Mulvaney shared about the cans on social media in the same week that 6 people were killed in a targeted attack by a transgender individual at a Nashville Christian school, The Covenant School.
In response to a Twitter user asking for Bud related products, Tritt shared an image of the labels. This is so that people can be aware of what products Anheuser-Busch sells.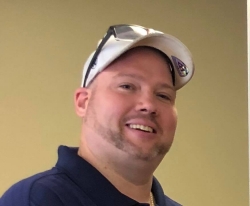 Latest posts by David Caron
(see all)