U.S. House Rep Maxine Waters (D-CA) has been under fire lately for inciting comments that she made on Saturday when she attended a protest in Minnesota.
Waters responded to the backlash by telling news outlet The Grio that she traveled to Brooklyn Center, MN because she "could not rest" after seeing yet another unarmed, although resisting, black man killed by a police officer and, in the case of Daunte Wright, just a few miles away from the Derek Chauvin trial in the murder of George Floyd.
The Grio reported that Waters said, "Republicans will jump on any word, any line and try to make it fit their message and their cause for denouncing us and denying us, basically calling us violent … any time they see an opportunity to seize on a word, so they do it and they send a message to all of the white supremacists, the KKK, the Oath Keepers, the [Proud] Boys and all of that, how this is a time for [Republicans] to raise money on [Democrats] backs."
Of what Waters claimed to be the Republican strategy, she said, "This is a time for [Republicans] to keep telling our constituents that [Democrats] are the enemy and they do that time and time again.
"But that does not deter me from speaking truth to power. I am not intimidated. I am not afraid, and I do what needs to be done," Waters added.
In attempt to further clarify her comments on being "confrontational," Waters claimed she was talking about "confronting the justice system, confronting the policing that's going on, I'm talking about speaking up. I'm talking about legislation. I'm talking about elected officials doing what needs to be done to control their budgets and to pass legislation."
"I am not worried that they're going to continue to distort what I say. This is who they are and this is how they act. And I'm not going to be bullied by them," Waters insisted.
Waters said she is more concerned about the "disappointment and hopelessness" such a verdict would have on the Minneapolis community and black communities across the country, when asked if she's worried about potential violence on American streets like what happened last summer if former Minneapolis police officer Derek Chauvin is found not guilty in the death of Floyd.
"I'm worried about the disappointment of particularly the young people and young Black males who are more and more frightened of the police, afraid to drive their cars when they see police coming and thinking that their lives will be in danger. I'm afraid that it further helps to cement the feeling that somehow justice just does not work for us in America. And so whatever that causes, it will cause … I don't know what will happen, but I know that disappointment and hopelessness is not a good thing," Waters explained.
Waters said that if Chauvin were to be found guilty, it would signal activists and politicians calling for police reform are "making some progress and that everything that we have done, including the protests, has led us to a point where we're being taken seriously and we're being treated fairly."
"I wish I could be more optimistic … but the Senate will probably not support the bill that we have sent and so I'm worried that if it does get out, it's going to be watered down," Waters said, referring to the George Floyd Justice in Policing Act, which has passed the House.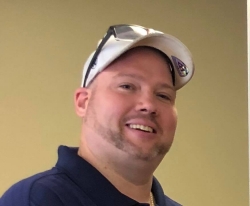 Latest posts by David Caron
(see all)