Yesterday, U.S. House Rep Marjorie Taylor Greene (R-GA) asked for House Speaker Nancy Pelosi (D-CA) to support her resolution to expel U.S. House Rep Maxine Waters (D-CA) for her inciting comments made on Saturday night at a protest in Brooklyn Center, Minnesota.
"@SpeakerPelosi you impeached President Trump after you said he incited violence by saying 'march peacefully' to the Capitol," Greene pointed out.
Then, Greene asked, "So I can expect a yes vote from you on my resolution to expel @RepMaxineWaters for inciting violence, riots, and abusing power threatening a jury, right?"
Earlier today, Waters attempted to defend her comments and shifted blame to Republicans for their outrage, claiming that it was designed to raise money.
Not long after that, Pelosi instead defended Waters and refused to condemn her for the comments. Pelosi also echoed the explanation that Waters gave and attempted to condemn Republican outrage.
When asked by a reporter if Waters needs to apologize for saying activists for racial justice need to "get more confrontational" when advocating for police reforms, Pelosi insisted, "No, she doesn't."
Pelosi then pivoted to comments made by U.S. House Rep Lisa McClain (R-MI), who spoke shortly after Pelosi gaveled the House into session for the day and suggested "That woman on the floor should be apologizing for what she said."
Returning to Waters, Pelosi continued, "Maxine talked about confrontation in the manner of the civil rights movement. I myself think we should take our lead from the George Floyd family. They've handled this with great dignity and no ambiguity or lack of — misinterpretation by the other side. No, I don't think she should apologize."
Pelosi added, when asked if the Waters comments could incite violence, "No, absolutely not."
McClain said during her floor speech, "Once again, this weekend, we saw a member of the majority openly call for more confrontation in a Minneapolis suburb. That very night, there was a drive-by shooting in that community where police and the National Guardsmen were targeted. If this were reversed, if this was said by a Republican, you know that the majority in this chamber would move to strip that representative of their committees and possibly to expel them from Congress."
Greene tweeted out her response to Pelosi and said, "@SpeakerPelosi just endorsed @MaxineWaters' orders to her BLM terrorist troops that directly led to a shooting at the National Guard. She endorsed inciting violence, rioting, mayhem in the streets, and Americans being murdered like David Dorn #RetirePelosi#ExpelMaxineWaters."
.@SpeakerPelosi just endorsed @MaxineWaters' orders to her BLM terrorist troops that directly led to a shooting at the National Guard.

She endorsed inciting violence, rioting, mayhem in the streets, and Americans being murdered like David Dorn#RetirePelosi #ExpelMaxineWaters https://t.co/EBQDVCy5Qd

— Marjorie Taylor Greene 🇺🇸 (@mtgreenee) April 19, 2021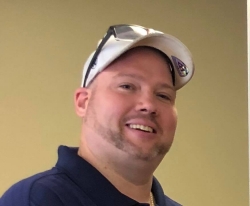 Latest posts by David Caron
(see all)