At an annual summit of conservative Christian leaders, former Vice President Mike Pence was called a "traitor" while getting booed and heckled during a speech that he gave.
The Faith & Freedom Coalition "Road to the Majority" is a conservative Christian summit that has in the past featured former President Donald Trump as a speaker and this year will also have Florida Gov. Ron DeSantis as a speaker.
Video shows Pence speaking by announcing that "it is great to be back with so many patriots, dedicated to faith and freedom and the road to the majority."
Various attendees can then be heard laughing and yelling "traitor" at Pence.
Pence gets drowned out by hecklers at the Faith & Freedom Coalition summit, some of whom appear to be chanting "traitor!" pic.twitter.com/pAQxavsK3O

— Andrew Solender (@AndrewSolender) June 18, 2021
National File reported in part:
Congressional candidate Jarome Bell broke the news on Twitter, stating "@Mike_Pence was just BOOed at the Faith and Freedom Coalition summit. There's a group of people yelling "TRAITOR" at him. They're not wrong. They have been led to the exits. Pence should have done more to fight disputed electors."
@Mike_Pence was just BOOed at the Faith and Freedom Coalition summit.

There's a group of people yelling "TRAITOR" at him.

They're not wrong.

They have been led to the exits.

Pence should have done more to fight disputed electors.

— Jarome Bell (@JaromeBellVA) June 18, 2021
/center>

According to NBC News reporter Ali Vitali, a woman who chanted "traitor" was escorted out of the conference.

The Faith & Freedom Twitter feed shared said that Pence "Honors" them by speaking and shared excerpts from his speech, ignoring the outbursts:
"The time has come for every American, dedicated to faith and freedom, to stand up and be heard and turn back the agenda of the radical left."

"I am a Christian, conservative, and a Republican, in that order.

"Over the past four years, President Trump showed us what Republicans can accomplish when we stand firm on conservative principles and don't back down… It was four years of promises made and promises kept."

"America is the most just, noble, inclusive nation ever to exist on the face of this Earth, and the United States military is the greatest force for good the world has ever known, and the men and women in law enforcement… should be honored and supported."

"Instead of teaching all our children to be proud of our country, critical race theory teaches children as young as kindergarten to be ashamed of their skin color."

"If we carry the message of faith and freedom and our values to our neighbors and friends, there's a hope and… a future because God is not done with America… the best days for this one nation under God indivisible with liberty and justice for all are yet to come."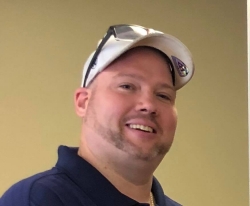 Latest posts by David Caron
(see all)