With more shocking and bold journalism from The Post Millennial, we bring to you a report about a flyer being handed out in public schools. These flyers apparently come from Planned parenthood. The flyers are being disseminated in schools to children to tell them they can have sex with other children, up to the age of 13. There are suggestions for condom use, birth control, STD testing, and more.
Some may say these may be good things because there are some in the 11-13-year-old age range who are already having sex and may need to know these things. Others would push back though, saying that most children at that age are not and should not be having sex, and literature like this may be missing the mark and sending the message that if you're not, it's ok to start.
That is a scary thought for parents, especially if they don't know that these are being handed out beforehand or if they don't have an option to opt-out. Even if there was an option to opt-out though, if flyers are being given out, there's a high likelihood that kids who opted out will still end up seeing the flyers around school. So that in essence means everyone will likely see it. The school reportedly having these flyers was Stewart Middle School in Tacoma, Washington.
Tacoma is a fast-growing suburb of Seattle, and although Seattle is a very liberal city, it could be argued that Tacoma is not quite as liberal. Nonetheless, this is happening.
Planned Parenthood sex-ed flyer telling 11-year-olds they could have sex, as long as the partner isn't older than 13, distrubuted in WA public school.https://t.co/eNA6h3qGmG

— The Post Millennial (@TPostMillennial) June 18, 2021
The Post Millennial reported:
Angry parents contacted the school's administrators after 8th grade children brought home the graphic flyer from science class. The flyer also informed students that they could get an abortion at any age without parent consent.
The handout listed other items that children did not need parental consent for such as birth control, as well as HIV and STD testing. The flyer encouraged sexting and advertised that condoms and emergency contraception could be obtained at any age.
Livid parents contact the school as well as Tacoma Public Schools. In a response obtained by The Post Millennial, Eric Hogan, assistant director of secondary education at Tacoma Public Schools said that the flyer was not part of the curriculum and should not have been sent home with students.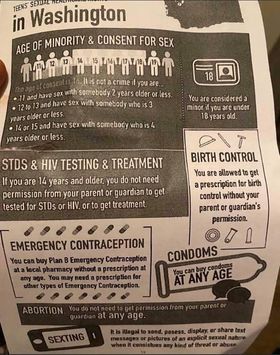 Angry parents contacted the school and received this response from the administrators. Eric Hogan, assistant director of secondary education said that the flyer was not a standard part of the children's literature and should not have been sent home with the kids.
The letter continued to "explain" in part saying, "This incident has been investigated in partnership with the District. Previously, Planned Parenthood taught within our schools and supplied the flyer that was distributed to students. We discovered a binder of curriculum materials was left behind for an incoming teacher to use for this year, and this flyer was in the binder. Not realizing the flyer wasn't approved material, the teacher sent it home with students. Corrective action has been taken with this employee. Planned Parenthood is no longer giving presentations within our schools.
Read the full letter: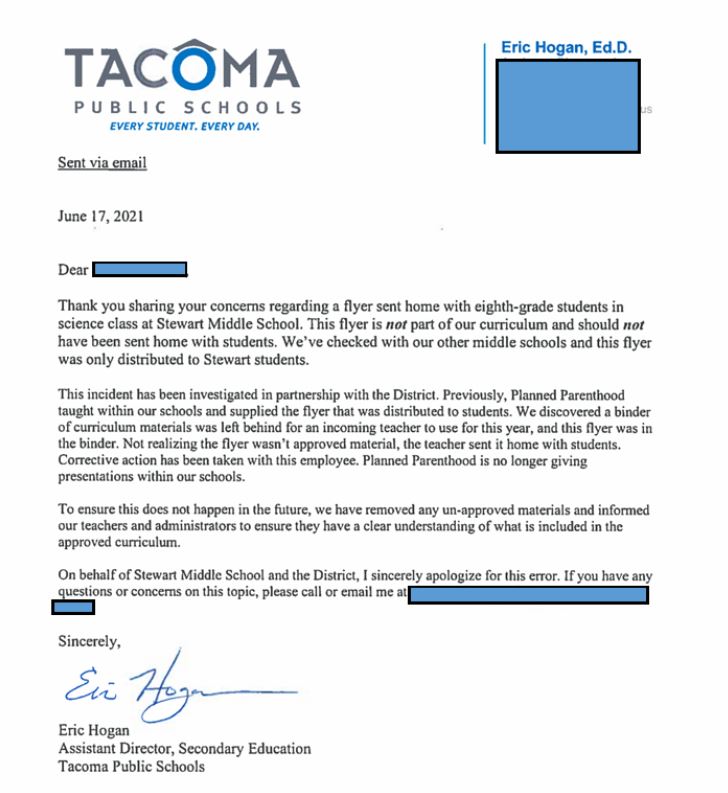 It looks as though corrective action was indeed taken and Planned Parenthood is being penalized here. But why were they allowed to be affiliated with the school, to begin with, and how can the situation be reversed, now that the flyers were already handed out? Many parents may not be thrilled even now, but it looks like the situation could still be worse.
The Post Millennial went on in more detail explaining just how it happened by reporting in part:
In the last election cycle, Washington voters approved Referredum [sic] 90, a graphic state-wide, sex ed curriculum created and endorsed by Planned Parenthood and radical activist organizations.
Informed Parents of Washington, objected to the early sexualization of children in the curriculum, as well as the graphic material and warned of the possibility of grooming young children for early sexual experiences.
This story highlights that parents have to stay relentlessly involved on all levels of their children's education to make sure they are being taught what is acceptable for the parents and the entire family, not just what radical leftists want to tell children, in our view.
Latest posts by Ian MacDonald
(see all)