Following the FBI raid of Mar-a-Lago, former Secretary of State Mike Pompeo disavowed it in a tweet last night.
Pompeo pointed out that he had been a part of a political investigation in the past where there had been proof of a similar offense by former Secretary of State Hillary Clinton to the stated reason given for the raid and no such raid took place in that instance.
"Executing a warrant against ex-POTUS is dangerous. The apparent political weaponization of DOJ/FBI is shameful," Pompeo declared.
Pompeo then referenced Attorney General Merrick Garland and insisted that he "must explain why 250 (years) of practice was upended (with) this raid."
"I served on Benghazi Com where we proved Hilliary possessed classified info. We didn't raid her home," Pompeo concluded.
Executing a warrant against ex-POTUS is dangerous. The apparent political weaponization of DOJ/FBI is shameful. AG must explain why 250 yrs of practice was upended w/ this raid. I served on Benghazi Com where we proved Hilliary possessed classified info. We didn't raid her home

— Mike Pompeo (@mikepompeo) August 9, 2022
Clinton has yet to weigh in on the situation via Twitter, however, she did issue a Twitter thread today advertising products with the phrase "But her emails."
"Every "But her emails" hat or shirt sold helps @onwardtogether partners defend democracy, build a progressive bench, and fight for our values. Just saying!"
"That was fast—I'm told hats are now sold out. We'll re-stock ASAP. In the meantime, know that we've got shirts, too."
"Hats are available for pre-order again. Crisis averted."
Every "But her emails" hat or shirt sold helps @onwardtogether partners defend democracy, build a progressive bench, and fight for our values.

Just saying!https://t.co/4TiUxjmRNY pic.twitter.com/rflM8fTAbw

— Hillary Clinton (@HillaryClinton) August 9, 2022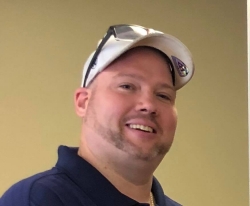 Latest posts by David Caron
(see all)