Minneapolis Police are searching for a suspect who spray painted a city owned camera that would have caught a fatal crash which occurred after a woman blocked an intersection with her car to protect demonstrating protesters.
It is unclear why the man decided to spray paint the camera, but it would appear that he did so to block out the ability of the city to see that they were planning to block off the street.
From the Minnesota Police Department:
WE ARE ASKING FOR YOUR HELP IN IDENTIFYING A SUSPECT: June 15, 2021 (MINNEAPOLIS) – On June 13, 2021 at approximately 8:34 pm, the individual pictured below climbed a pole and spray painted the City owned camera in the area of Lake Street West and Girard.
This is the camera that would have caught the fatal crash Sunday evening, providing law enforcement and the County Attorney's Office with critical evidence in the prosecution of the suspect had it not been disabled by the paint.
CBS 4 WCCO reported that the Hennepin County Jail roster records show that a 35-year-old St. Paul man was arrested early Monday in Minneapolis on suspicion of criminal vehicular homicide, driving after having his license suspended, and giving false information to police and that he did not have a valid license as a result of multiple DUI offenses.
Protesters held the man on the scene after he attempted to flee on foot.
Protests have been ongoing in the area since the June 3 shooting of Winston Boogie Smith Jr. by members of a federal U.S. Marshals Service task force, who were trying to arrest Smith on a warrant for being a felon in possession of a firearm when he displayed a handgun from inside a parked vehicle and task force members fired.
Protesters have now attempted to shut down the intersection permanently, in the way the George Floyd memorial continues to shut down the intersection where he died, dubbed "George Floyd Square."
Protester Tod Gramenz called it "a remembrance" for the protester, Deona Knajdek, who was killed. "It's almost like a celebration of life, and as [Knajdek] is no longer with us, it would only be right to pay respects," Gramenz explained.
Police and Mayor Jacob Frey aren't having it, however, as they have now cleared the intersection twice after the protesters blocked it with various objects, including a Metro Transit bus shelter.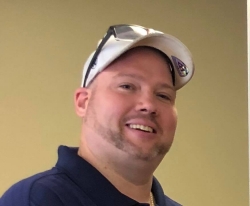 Latest posts by David Caron
(see all)