In an absolutely bizarre segment on MSNBC, host Nicolle Wallace displayed the extent to which she was triggered by the NORAD phone call where Oregon Dad Jared Schmeck told Joe Biden "Let's go Brandon."
As we reported yesterday, Schmeck went on Steve Bannon's "War Room" and further explained what he believes the phrase means, essentially an objection to the Biden presidency.
Wallace referenced the interview in her unhinged rant where she suggested that it is part of a "slow-motion insurrection."
"Let me tell you why this matters. Asymmetry has always been what advantages the Trump right more than anything else and the asymmetry of saying 'F you' to a sitting president on a call in front of your four kids," Wallace began in a clip that was tweeted.
Wallace urged, "Don't look past this, don't look at this as a story of giving air time to a MAGA guy, who goes on Steve Bannon's podcast and says, 'I wasn't joking, not only did I say F you Mr. President, I said more than that.'"
"This is the slow-motion insurrection Jason, in, in, full color," Wallace insisted, to which Jason Johnson, host of MSNBC's "This Week" agreed and claimed that "these people are basically just insurrectionists in training now."
Johnson then asserted that "MAGA isn't about taxes. You know, Let's go Brandon isn't about what you feel about supply chain issues and gas. It is the cry of insurrectionists. It is the cry of people who want to violently take over this country and oppress anyone who is not like them."
.@NicolleDWallace on the Oregon dad who said "Let's Go Brandon" to Biden on Christmas Eve: "This is the slow-motion insurrection" pic.twitter.com/ZEfdKAqoFH

— Kevin Tober (@KevinTober94) December 27, 2021
As we previously reported:
"Donald Trump is my president and he should still be president right now. The election was 100% stolen, I just want to make that clear," Schmeck told Bannon in the interview.
As for the phrase that he told Biden, Schmeck explained, "'Let's go Brandon' is more than just 'F Joe Biden.' 'Let's go Brandon' encompasses the entirety of our frustration with Joe Biden, the administration, the leftist mob, the cancel culture, the mainstream media – they're the one who made this thing."
"We're able as conservatives to find humor in this, but there are terrible things going on," Schmeck pointed out and then went over some of the issues that most conservatives are objecting to.
Bannon appeared impressed with Schmeck's explanation and told him that he was able to sum it all up in about 3 seconds.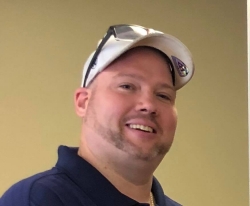 Latest posts by David Caron
(see all)