A Nation of Islam devotee from Indiana rammed a vehicle into U.S. Capitol police today and brandished a knife, killing one officer and injuring another and forcing the Capitol complex to lock down.
While police said that the attack did not immediately appear to be terrorism-related, the Nation of Islam has been designated a hate group by the SPLC, who rarely give minority groups that status.
U.S. House Rep Ilhan Omar (D-MN), who is one of the three Muslim representatives in Congress, tweeted out regarding the attack and claimed to be "Heartbroken to learn another CP was killed while protecting the Capitol."
"My thoughts and prayers go out to the officer's family and the entire Capitol Police force," Omar continued, using a phrase that typically is mocked by those on the left.
Changing her tone, Omar concluded, "The death toll would have been worse if the assailant had an AR-15 instead of a knife."
U.S. House Rep Marjorie Taylor Greene (R-GA) castigated Omar in a quote tweet and said, "An Islamic terrorist did something (your words) to a Capitol Police Officer on Good Friday."
In 2019, Omar referred to the 9/11 Islamic terrorist attacks as "some people did something" while complaining about the alleged mistreatment of Muslims every time "something happens," posted a video tribute today to the victims and called for unity.
"Stop trying to use an Islamic terrorist attack to destroy our Second Amendment rights," Greene insisted, adding, "And if you support police, then don't defund them."
An Islamic terrorist did something (your words) to a Capitol Police Officer on Good Friday.

Stop trying to use an Islamic terrorist attack to destroy our Second Amendment rights.

And if you support police, then don't defund them. https://t.co/GnvU8i1qIo

— Marjorie Taylor Greene 🇺🇸 (@mtgreenee) April 2, 2021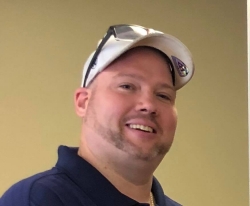 Latest posts by David Caron
(see all)