U.S. House Rep Marjorie Taylor Greene (R-GA) led a group of 12 GOP House reps who sent a letter to Attorney General Merrick Garland demanding answers in regards to the "kidnapping plot" of Michigan Dem Gov. Gretchen Whitmer.
In the letter, the group said that "The American people deserve a transparent justice system and law enforcement that keeps them safe, not entraps them in serious criminal activity in order to sway the outcome of a democratic election."
As we reported earlier this month, the Department of Justice was unable to secure a single conviction against any of the four men accused of being involved in the "plot."
The jury found two of the suspects, Daniel Harris and Brandon Caserta, not guilty, while a mistrial was declared for defendants Adam Fox and Barry Croft.
All four defendants had pleaded not guilty and faced up to life in prison if convicted of the so-called kidnapping conspiracy.
In a tweet, Greene said that she was "Proud to lead this effort to get answers from Biden's DOJ" and thanked the others who signed on.
Proud to lead this effort to get answers from Biden's DOJ.

Thank you to @RepMattGaetz @RepScottPerry @RepThomasMassie @RepDanBishop @replouiegohmert @Rep_Clyde @RepAndyHarrisMD @RepAndyBiggsAZ @RepGosar @RepBobGood and @RepMaryMiller.https://t.co/NzPMYYNMVx

— Rep. Marjorie Taylor Greene (@RepMTG) April 27, 2022
Matt Gaetz (FL), Scott Perry (PA), Thomas Massie (KY), Dan Bishop (NC), Louie Gohmert (TX), Andrew Clyde (GA), Andy Harris (MD), Andy Biggs (AZ), Paul Gosar (AZ), Bob Good (VA), and Mary Miller (IL) were the other GOP reps who signed on.
The letter was also addressed to FBI Director Christopher Wray and noted that "After the kidnapping plot became public in October 2020, one month before a presidential election, media headlines were released en masse that greatly negatively affected public sentiment toward then-President Donald J. Trump."
Greene sought to make a link between FBI "entrapping" the Whitmer defendants and what occurred on Jan. 6 at the Capitol during an interview with Fox News Digital.
A potential link was also questioned in the letter as well.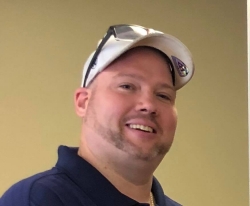 Latest posts by David Caron
(see all)