Yesterday, we reported that U.S. House Rep Marjorie Taylor Greene (R-GA) announced that "very soon" she would be "be introducing a resolution to expel @RepMaxineWaters from Congress for her continual incitement of violence on innocent American people."
Greene said at the time that Waters is "a danger to our society" and today, she called Waters the "Commander of the BLM domestic terror army."
Following through with the threat today, Greene "filed H. Res. 327 to hold Democrat @RepMaxineWaters accountable for inciting violent riots and Black Lives Matter terrorism."
In a tweet on her campaign account, Greene released the contents of the resolution, which said that the case against Waters "inciting violence and terrorism is extensive and thorough."
Greene then provided examples of why she believed that to be the case, which included the recent acts in Minnesota and statements she made against the Trump administration in 2017 and 2018.
Also included was an instance from 2007 when Waters spoke out in potentially inciteful terms at an anti-Iraq war rally against the Bush administration and began with an instance in 1992 where Waters called the Rodney King riots in Los Angeles "a rebellion."
Today, I filed H. Res. 327 to hold Democrat @RepMaxineWaters accountable for inciting violent riots and Black Lives Matter terrorism.

It's time to #ExpelMaxineWaters! pic.twitter.com/K0eQ3t5Sah

— Rep. Marjorie Taylor Greene (@RepMTG) April 19, 2021
Prior to releasing that tweet, Greene released a tweet on her seldom used government account that contained a video of her standing on the steps of the U.S. Capitol and announcing that she was about to submit the resolution.
In the tweet, she said, "I just went inside the Capitol to file my resolution to #ExpelMaxineWaters for her history of inciting violence and ordering Black Lives Matter terrorism against National Guardsmen in Minnesota."
I just went inside the Capitol to file my resolution to #ExpelMaxineWaters for her history of inciting violence and ordering Black Lives Matter terrorism against National Guardsmen in Minnesota. pic.twitter.com/V408AUl8ZT

— Rep. Marjorie Taylor Greene (@RepMTG) April 19, 2021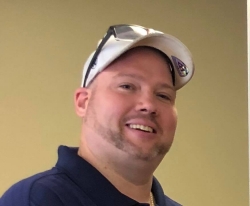 Latest posts by David Caron
(see all)