Democrats passed abortion legislation today in the U.S. House of Representatives that they say will protect women's access to abortion.
The bill, the Women's Health Protection Act, was passed in a response to a Texas law that essentially bans abortion after six weeks.
The vote was largely symbolic as the bill is unlikely to advance in the Senate due to the filibuster as 10 Republicans and all Democrats would need to back the bill in order to meet the 60-vote threshold.
Following its passage, mainly along party lines, 218-211, with one Democrat voting with Republicans, a group of Democrats gathered for a press conference on the U.S. Capitol steps.
U.S. House Rep Marjorie Taylor Greene (R-GA) spoiled the press conference for them, however, as she shouted "Horrendous" and "You should all be ashamed" at them, triggering U.S. House Rep Debbie Dingell (D-MI) into a shouting match.
Fox News transcribed the back-and-forth:
Dingell, who represents Michigan's 12th district, shouted back at Greene accusing her of showing a "lack of civility."
"You know what?" Greene responded. "Killing a baby up until birth is a lack of civility. It's called murder."
"We have lots of laws we follow," Dingell shot back. "You should practice the basic thing you're taught in church: Respect your neighbor."
Greene took issue with that statement and said, "Taught in church? Are you kidding me? Try being a Christian and supporting life."
"You try being a Christian and treat your colleagues decently!" Dingell answered."
Dingell then appeared to stumble down one of the Capitol steps and was steadied by fellow Democrat Rep. Frank Pallone. 
"Watch your step, lady. You're going to fall down," Greene said. "Control yourself."
MTG just triggered Rep. Debbie Dingell (D) into an epic meltdown pic.twitter.com/KRv2g1FeHZ

— Jewish Deplorable (@TrumpJew2) September 24, 2021
After Dingell tweeted out about the incident, Greene responded, "Two things we learned today: 1- ALL House Democrats are evil and will kill unborn babies all the way up to birth & then celebrate. 2- You might fall down the stairs when your unhinged & hypocritically preaching about being civil, going to church & killing babies. You're a joke."
Two things we learned today:

1- ALL House Democrats are evil and will kill unborn babies all the way up to birth & then celebrate.

2- You might fall down the stairs when your unhinged & hypocritically preaching about being civil, going to church & killing babies.

You're a joke https://t.co/l1bke87NZE

— Marjorie Taylor Greene 🇺🇸 (@mtgreenee) September 24, 2021
The Hill's Scott Wong recently reported that ".@DebDingell now fundraising off her altercation with @mtgreenee: 'Debbie Dingell stood up against MTG … 'We know that women from Michigan get the job done, and today, Debbie stood up against a bully heckling her colleagues on the steps of the United States Capitol.'"
.@DebDingell now fundraising off her altercation with @mtgreenee: "Debbie Dingell stood up against MTG …

"We know that women from Michigan get the job done, and today, Debbie stood up against a bully heckling her colleagues on the steps of the United States Capitol." pic.twitter.com/Zb4bfyZ7fO

— Scott Wong (@scottwongDC) September 24, 2021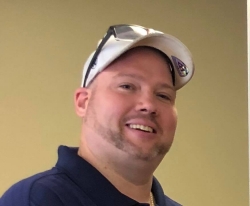 Latest posts by David Caron
(see all)