The firestorm surrounding Jared Schmeck, the Oregon father who told Joe Biden "Let's go Brandon" in a Christmas Eve phone call is the latest example of mainstream media hypocrisy.
In an article reporting the situation, NBC News categorized it as a "right-wing slur" despite Biden's horrible poll numbers, which show that he is currently disliked by far more than just those on the right.
Twitter account "Defiant L's" pointed out that in the past, the news outlet has been far more generous when describing Juli Briskman, the woman who gave former President Donald Trump's motorcade the finger in 2017 while riding on her bicycle.
In fact, after Briskman won a seat on the Board of Supervisors in Loudon County in 2019, they used celebratory wording in a headline describing the victory.
"Take that, Mr. President: Woman who gave the finger to Trump's car wins election," the 2019 headline read.
In the headline they used for Schmeck's actions, the outlet declared, "Parent uses right-wing slur during Biden call with NORAD santa tracker."
Merry Christmas everyone 🎄 pic.twitter.com/2tALsqDGKU

— Defiant L's (@DefiantLs) December 25, 2021
Briskman was fired from her job after the photo of her "left-wing insulting gesture" went viral and she was identified.
Of course, as opposed to someone saying "Let's go Brandon" the middle finger has much more history as a deragatory insult.
Many are attempting to get Schmenk fired from his job as well at this point, which seems ironic since Briskman sued her employer after her firing and complained that it was a violation of her first-amendment right.
Also, in another example of mainstream media hypocrisy, the NBC Washington news outlet suggested previously that Briskman made the gesture "in defiance", which would give the impression that it was appropriate.
While Briskman ultimately lost the lawsuit, she now holds the supervisor position as a Democrat and she is verified on Twitter with nearly 56k followers, seizing on the fame from the decision.
Schmeck doesn't appear to want to do the same, as he told an Oregon news outlet that he didn't intend for the message to be vulgar.
"At the end of the day, I have nothing against Mr. Biden, but I am frustrated because I think he can be doing a better job. I mean no disrespect to him," Schmeck explained.
Schmeck has also echoed Briskman by asserting, "And now I am being attacked for utilizing my freedom of speech," adding that he's been receiving some vague but threatening phone calls since the NORAD call.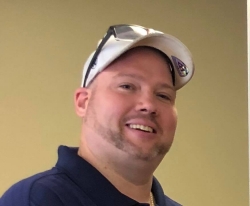 Latest posts by David Caron
(see all)