Thanks to U.S. House Rep Thomas Massie (R-KY), Arizona man Ray Epps, who appeared prominently in Jan. 6 videos but has never been charged, returned to prominence this week when those videos were replayed in Congress. 
Videos of Epps was shown by Massie during a House oversight hearing where lawmakers questioned Attorney General Merrick Garland about the events that transpired that day and the subsequent investigations.
Massie used the videos to suggest that federal agents were present and agitating people before the riot as one video showed Epps telling people on Jan. 5 they need to go into the U.S. Capitol with another other video that showed him directing them on Jan. 6 toward the historic building.  
In the Jan. 5 video, those gathered around him can be seen shouting "fed" at him after he suggests that the Capitol should essentially be stormed.
Garland refused to tell Massie whether or not federal agents were present or not, simply stating that he would not "comment on an investigation that's ongoing."
Apparently due to the reemergence of Epps in the national spotlight, two "patriots" took it upon themselves to seek out Epps' residence and confront him in front of his ranch.
The duo walk up to Epps as he is in a golf cart and one of them mentions that they had met on Jan. 5 and asks if he remembers him from Jan. 6 "at least."
They then ask him if he is a federal informant but he tells them "I understand that, but I can't answer" and backs up the golf cart and pulls back onto his property.
BREAKING: Ray Epps, Suspected Federal Informant Who Instigated Civilians During Jan 6, Confronted Over FBI Removing Name From Most Wanted List pic.twitter.com/DwaX2B4Xy4

— Chief Trumpster (@ChiefTrumpNews) October 27, 2021
Tucker Carlson recently played the video as well and had Darren Beattie as a guest, who noted that Epps was initially on the "FBI's Most Wanted" list but then was mysteriously removed.
That moment when @TheBrebRoom Ray Epps 1/6 dig makes The Revolver @DarrenJBeattie and @TuckerCarlson features it on his show. Tucker wants Ray Epps on his show!!!! pic.twitter.com/BdE3pv2Vgd

— The Real Diana Prince (@dawnstar1776) October 26, 2021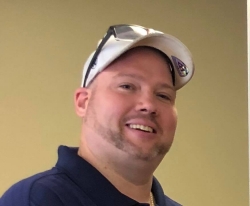 Latest posts by David Caron
(see all)