Protests, which have increasingly turned violent, in Portland have been happening nightly since late May so federal law enforcement has apparently been called in to help quell the unrest. Yesterday morning, video was posted of federal officers taking an Antifa protester off the streets and putting them in a van.
Trump's #Gestapo tactics in Portland Oregon using unidentified Feds to remove peaceful protesters and putting them in unmarked vehicles.

????THIS IS TRUMP'S AMERICA????#FascistTrump #TrumpFailsAmerica pic.twitter.com/1ui5UV3QZC

— BlueNovember2020???????? ???? #VoteOutGOP (@deejay90192) July 17, 2020
Nancy Pelosi cried foul at the display, saying that "unidentified stormtroopers" were "kidnapping protesters." She claimed it was "one-sided violence" that was "causing severe injuries in response to graffiti. These are not the actions of a democratic republic." She wants "Trump & his stormtroopers" to "be stopped."
First Amendment speech should never be met with one-sided violence from federal agents acting as Trump's secret police, especially when unidentified. This is disgraceful behavior we would expect from a banana republic — not the government of the United States.

— Nancy Pelosi (@SpeakerPelosi) July 18, 2020
Last night, hundreds of demonstrators dismantled a chainlink fence that surrounded downtown parks and moved parts of the fence into the street. They later used pieces of the dismantled fencing to block the entrance of the federal courthouse and the federal office building.
Officers in riot gear followed by Portland police vehicles and some federal officers in camouflage shot pepper balls, deployed stun grenades and set off gas to eventually disperse the crowd.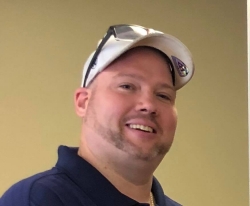 Latest posts by David Caron
(see all)