According to a Quinnipiac University poll released Wednesday, President Joe Biden's approval rating has dropped to 38%, down from 42% three weeks ago, and from a high of 50% in mid-February.
Quinnipiac University polling analyst Tim Malloy said in a prepared statement that Biden has been "Battered on trust, doubted on leadership, and challenged on overall competency."
"Biden is being hammered on all sides as his approval rating continues its downward slide to a number not seen since the tough scrutiny of the Trump administration," Malloy added.
At today's press briefing, White House press secretary Jen Psaki offered her own take when asked about the "tough" numbers, blaming the unvaccinated.
A reporter pointed out to Psaki, "The president has very tough approval ratings these days. You might say it does not mean anything. But it is also fair to say that when you get good polls, you publicize them."
"So, what do you make of these terrible polls? Is it partly an indication that something is wrong? Is it just communication? Or are there things that have to be done?" the reporter wondered.
Psaki smiled and responded, "Look, I would say that this is a really tough time in our country. We are still battling COVID and a lot of people thought we would be through it, including us," Psaki began in her response.
"Because of the rise of the Delta variant, because of the fact that even though it was a vaccine that was approved under a republican administration, even though we have full FDA approval, and even though it is widely available across the country, we still have a quarter of the country, less than that, 20% of the country who have decided not to get vaccinated," Psaki lamented.
U.S. House Rep Marjorie Taylor Greene offered her opinion on why she believed Biden was facing such "tough" poll numbers.
In a tweet, Greene offered, "What @PressSec meant: 'This is a really tough time in our country. My boss abandoned Americans in Afghanistan, armed an Islamic terrorist nation, & killed 13 young soldiers. We're intentionally keeping the border open & inviting the world to illegally enter' #ImpeachBiden"
What @PressSec meant:

"This is a really tough time in our country.

My boss abandoned Americans in Afghanistan, armed an Islamic terrorist nation, & killed 13 young soldiers.

We're intentionally keeping the border open & inviting the world to illegally enter."#ImpeachBiden https://t.co/zXaZ65THTh

— Marjorie Taylor Greene ?? (@mtgreenee) October 8, 2021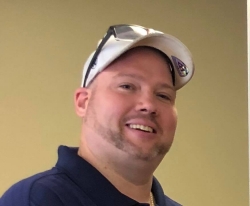 Latest posts by David Caron
(see all)