We reported Wednesday about how a video went viral that showed White House Press Secretary Jen Psaki using iterations of the phrase "circle back" when she was unable to provide an answer to a question.
It is clear that Psaki has gotten wind of it, because after using the phrase multiple times in briefings on Monday and Tuesday, she didn't use it at all on Wednesday, according to the White House transcript.
Today, Psaki was asked, "It was requested active-duty troops be used at vaccination centers. Does the White House support that request?"
Psaki had some trouble answering a question regarding vaccines that she said she had "asked her team about this" because the reporter "or someone else" had "asked about it the other day."
Psaki ultimately was unable to answer the question after telling the reporter "one moment" and then ruffling through her papers for 30 seconds and thanking the reporter for his "patience," clearing her throat, and adding "lots to say about COVID, no doubt about it."
Ultimately, Psaki concluded in the clip, "let me, let me, let me, umm, let me talk to our team about it."
Not shown in the clip, Psaki continues with an unrelated tangent where she said, "I have seen that request from FEMA. Part of our objective is ensuring that we have vaccinators on the ground, I know that is not what you are asking about, but also the ability to move materials or vaccines but obviously we are tapping into any resource we have."
"I will check with my team to get you something more specific," Psaki said again before he asked her another question about double masking.
The Twitter account that shared the clip, "RIGHT TO BEAR MEMES," referenced the previous viral video while mocking her and said, "When you follow up on one of Psaki's 'circle backs'."
When you follow up on one of Psaki's 'circle backs' pic.twitter.com/w0q0xRTwTz

— ᴛʜᴇ ʀɪɢʜᴛ ᴛᴏ ʙᴇᴀʀ ᴍᴇᴍᴇꜱ (@grandoldmemes) January 29, 2021
Conservative activist Scott Presler was one of many who shared the video and he said, sarcastically, "This may be an unpopular opinion, but I think Jen Psaki is an excellent representation of the Biden admin."
This may be an unpopular opinion,

but I think Jen Psaki is an excellent representation of the Biden admin. pic.twitter.com/TZ04iXkXNN

— #ThePersistence (@ScottPresler) January 29, 2021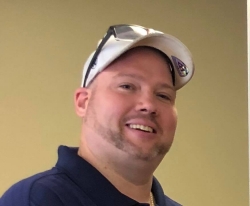 Latest posts by David Caron
(see all)