Another day, another example of the Biden Administration displaying arrogance towards a crisis facing the American people.
Once again, it comes from the podium during a White House press briefing in the form of a scoff at a supply chain crisis question by White House press secretary Jen Psaki.
Psaki was asked by a reporter a question about "the timing on the supply chain issue, actions that the president has taken."
"It was clear in March of 2020 that the supply chains had been disrupted even as the sort of work to fight back proceeded, it was crystal clear that things were not improving on supply chain," the reporter explained.
The reporter continued "People couldn't get dishwashers and furniture and treadmills delivered on time, not to mention all sorts of other things."
At that point, Psaki interrupted him and quipped, "The tragedy of the treadmill that's delayed."
"The tragedy of the treadmill that's delayed" — Jen Psaki pic.twitter.com/IEnEcfGqoR

— Aaron Rupar (@atrupar) October 19, 2021
While it may not be a big deal to Psaki, there certainly are many benefits to treadmills as they can help fight against COVID-19 by keeping their users in better shape, which is proven to be critical in combating the virus.
Fox Business reported on Psaki's answer to the question, which ultimately was why the Biden administration hadn't acted sooner to address the supply chain crisis:
"Well, that's not actually true," Psaki responded. "The president formed a task force at the very beginning of the administration. 
"And what we know from the global supply chain issues is that they are multifaceted," she continued. "Right now, we've been focusing on the ports and issues at the ports, and what leaders at these ports will tell you is that they've seen an increase in volume dramatically as it relates to last year – 20%, 30% increase in volume."
Psaki said part of the administration's work to address the supply chain has been providing COVID-19 vaccines to countries where manufacturing sites have been shut down due to the pandemic. She also said the administration has been working with state DMVs to expedite their approval of commercial driver's licenses to get more truckers on the road, as well as working with unions "to help address the shortages of workers."
"So I think the important thing to understand here is that there are multiple issues that are impacting the supply chain," she said. "And some of that is that as the economy has turned back on, more people had expendable income, wages to buy more goods, more people are buying more goods. People have started to also buy more things online than going into stores."
Conservatives criticized Psaki for the treadmill remark. It comes just days after White House chief of staff Ron Klain faced a backlash for enthusiastically agreeing with a tweet describing the supply chain crisis as "high class problems."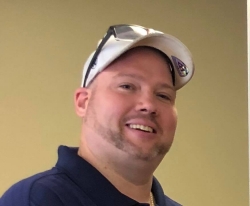 Latest posts by David Caron
(see all)