Previously we reported that things were beginning to look dire for U.S. House Rep Matt Gaetz (R-FL) the same day reports came out that he might retire from Congress to take a job at NewsMax. Apparently, it was leaked by the New York Times that Gaetz was under investigation for sex trafficking involving a 17-year-old girl.
The Daily Mail now reports that this girl testified to a grand jury in Florida that she slept with Gaetz before she was 18. Gaetz denies this, although it's absolutely questionable as to why this girl would testify to this if it isn't true. Gaetz is still innocent until proven guilty by a court of law of course.
During Gaetz's initial denial on Fox News's Tucker Carlson Tonight, he went on air accusing former DOJ Official David McGee of being part of an extortion plot and that this was the real reason for the investigation. Gaetz claimed that there was also an investigation of people he claims are extorting him and that his father wore a wire to aid with this investigation.
Gaetz has fought back hard against these allegations. Many have come out supporting him, but the Trump family has been relatively quiet, despite Gaetz being an ardent Donald Trump supporter. Gaetz also had a strange relationship with disgraced former U.S. House Rep Katie Hill (D-CA).
The congressman defended Hill when there was a scandal about nude photos and potential sex with congressional staffers that ended up leading to Hill's resignation. Her seat was eventually won back by a Republican. Although Gaetz defended Hill back then, she did not return the favor. Below you can see two tweets that pretty much tell the story.
The first tweet shows Hill's thankfulness to Gaetz when he defended her, the second one shows her reaction to Gaetz's recent scandal. Clearly, Hill did not think Gaetz was worth defending, sadly for Gaetz. Although Gaetz denied being with a 17-year-old girl, Hill spoke as if she didn't believe his denial, and instead offered a disavowal of sorts, based on the allegations.
"A 17 year old girl is a girl, not a woman. Statutory rape is rape, not anything else" says Hill. Many people have varying opinions on this subject, but for Democrat Hill, it seemed to hit home for some reason.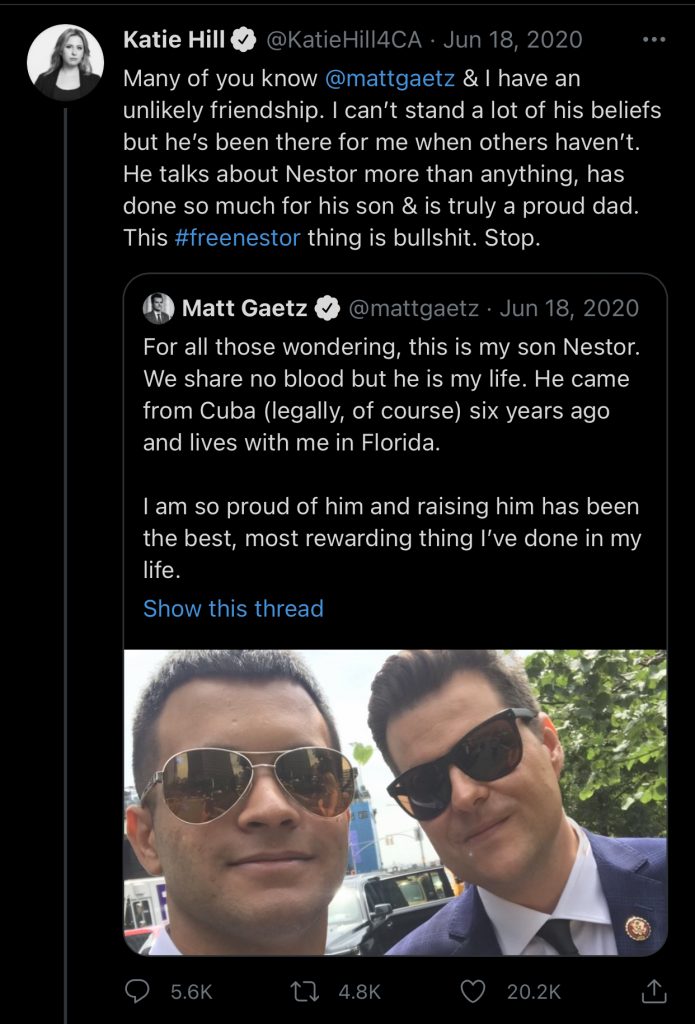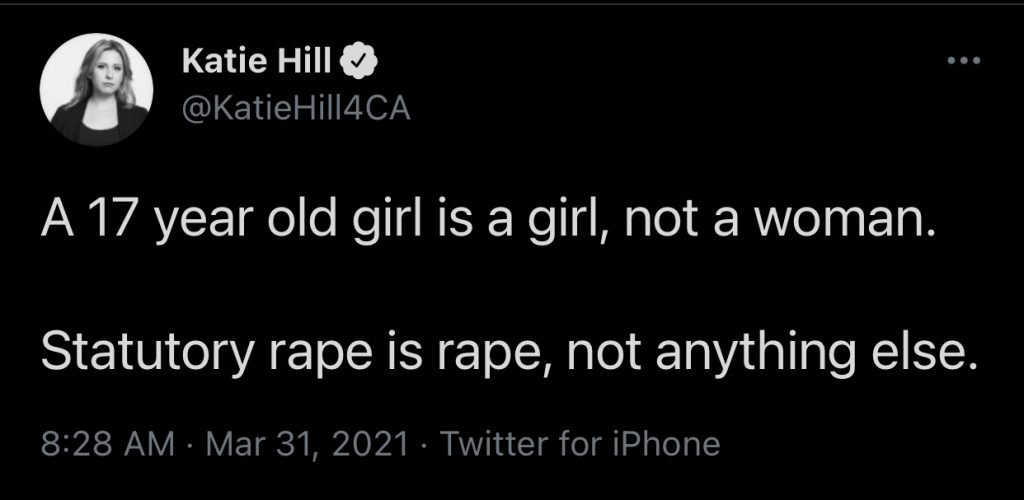 The Daily Mail also reports that an indictment is expected against Gaetz in the coming weeks. Various different elected Republicans in the House and Senate have had various different opinions. Marjorie Taylor Greene (R-GA) stands with Gaetz and believes he is innocent. Others have said to wait for the facts to come out, and that if he is indeed culpable he should either lose committees or resign.
Apparently, former DOJ official McGee is considering suing Gaetz. According to the Daily Mail:
A source familiar with the congressman's mounting troubles says Gaetz is now about to be the target of a defamation lawsuit over his statements…
…During his appearance on Tucker Carlson Tonight Tuesday, Gaetz insisted the sex allegations were 'totally false' and an extortion attempt led by David McGee, a former federal prosecutor and now one of Pensacola's best-known attorneys.
McGee was not available to comment when DailyMail.com called his office.
'The congressman impugned and damaged the reputation of someone who had nothing to do with this,' the source told DailyMail.com.
'That's going to cost him. Gaetz is a sleaze-bag who used a professional with a sterling reputation to divert the attention on a sex investigation focused on him.'
McGee has denied he tried to extort Gaetz and said he had no involvement in the DOJ sex trafficking probe other than being one of 'a thousand people who have heard the rumors' about the congressman's alleged actions with underage girls...
…'But by bringing up McGee's name on Fox Nation, Matt made a big mistake.'
Time will tell if McGee follows through, or if Gaetz gets indicted. This is definitely one of the most bizarre stories we've seen in a while come out of congress with far more details available to be found than we have time to cover in this one story. We will try to keep you notified of important updates to the situation as it unfolds.
Latest posts by Ian MacDonald
(see all)