With many leftists making negative statements yesterday, one Hollywood actress, Melissa Joan Hart bucked the trend.
The "Sabrina the Teenage Witch" actress celebrated a patriotic 4th of July to the max as she announced on Instagram, "The eagle dress has landed."
"A little history about the dress that has decorated my always changing shape for 21 years now.
Purchased in 2000 in Melbourne, Australia."
"I wore it on the #LateShow with #JayLeno in 2021 after 9/11 when I only wore red, white and blue for the better part of a year."
"It became a July 4th staple in my Tahoe closet in about 2008 and I have since worn it every year minus 2019 when I spent Independence Day on the east coast."
"And some doctored up photo of me with @bryancranston and @hilaryduff that never actually happened in my memory."
"Slide show included for reference. Happy July 4th to my fellow Americans. 🇺🇸🇺🇸🇺🇸"
In the included slide show, Hart shared various pictures of her in the dress over the years including on the Late Show with Jay Leno.
One of the pictures was Hart in the dress, however, the eagle was cut off. She then shared another picture on Instagram where she said, "Sorry about my last post where I seem to have cut off the eagle which is the most important part of the dress! #eagledress #July4th"
Prior to both posts, Hart shared a video with Bruce Springsteen's "Born in the USA" in the background that had a helicopter over the water.
"Water rescue simulation exercise to follow up the parachuting. Check out my tiktok to see the first part of this patriotic fun! #pararescue #Happyindependenceday" Hart said about the video.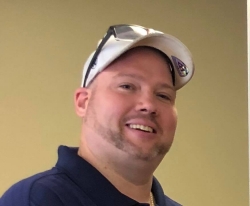 Latest posts by David Caron
(see all)