Democrats in Virginia showed socialist Delegate Lee Carter the door twice during today's Primary Election, deciding not to renew his old job or give him a new one, as he was also running for governor.
Carter was defeated in the State House race by Michelle Lopes-Maldonado by six points and former Governor Terry McAuliffe cruised to an easy victory in the primary to regain his old job.
In 2017, Democrats were celebrating Carter's victory, when he defeated Jackson Miller, a Republican incumbent who served as House majority whip, and he won re-election in 2019.
Carter sounded off in a two-part tweet after the defeat where he began, "This job has made me miserable for the last 4 years."
"I made a lot of people's lives objectively better, but the constant assassination threats and harassment were terrible for my family and my health. I'm relieved to say that I've done my part, and now it's someone else's turn," Carter contined.
Carter then listed off accomplishments that he has achieved while in office:
I helped get health insurance for half a million people.
I helped thousands of diabetic people pay for insulin.
I helped legalize cannabis.
I helped end the death penalty.
I helped workers own their own cooperative businesses.
I helped people unionize.
I'm gonna sleep well.
In conclusion, Carter insisted that he was "gonna sleep well." Curiously though, Carter turned off comments.
That didn't stop Twitter users from quote tweeting him though and many found it strange that he would run for two offices at once if he was so miserable.
Verified Daily Beast writer Gary Legum quipped, "If you thought being a part-time legislator in the Assembly was miserable, wait until you learn about what you would have had to do as governor."
Legum then appeared to have second thoughts and added, "I'm sorry about the nuts who threatened Carter and his family, but the dude ran in two primaries today. For a guy who put his family through hell with a public-facing job, he sure seemed anxious to have an even more public-facing job."
I'm sorry about the nuts who threatened Carter and his family, but the dude ran in two primaries today. For a guy who put his family through hell with a public-facing job, he sure seemed anxious to have an even more public-facing job.

— Gary Legum (@GaryLegum) June 9, 2021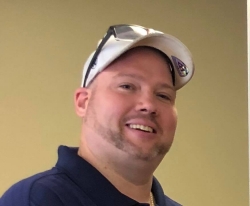 Latest posts by David Caron
(see all)