Fox News' Jeanine Pirro was unimpressed with the response from New York City Mayor Eric Adams to today's subway attack.
It was reported yesterday that Adams is working remotely from Gracie Mansion where he is isolating as he is battling COVID.
On today's episode of "The Five," Pirro had a message for Adams after he released a video statement from the mansion following the attack.
"You've got a mayor, Mayor Adams, put on the damn mask and get out there. I'll tell you why. He's a cop. This guy knows crime," Pirro explained.
Pirro then urged, "Stop wussing around in your house because you may have Covid. Put the mask on and get out there and make New Yorkers believe you are a cop."
According to a recent report, the NYPD Commissioner says a person of interest in the attack, Frank James, posted "concerning" videos online discussing homelessness and Adams.
Adams' security detail is reportedly being beefed-up in the wake of the revelation.
BREAKING: NYPD Commissioner says person of interest Frank James posted 'concerning' videos online discussing homelessness and NYC Mayor Eric Adams; Adams' security detail is being beefed-up https://t.co/GNw1PGRLIp pic.twitter.com/qDgWvwWsJU

— Breaking911 (@Breaking911) April 12, 2022
At a press conference this evening, Adams appeared virtually as "NYPD executives" joined "City and State Officials to discuss the earlier shooting incident in Brooklyn."
In a quote tweet, Adams indicated that he might attend the press conference as he said, "Join us now at 1 Police Plaza for an update on this morning's shooting in Brooklyn."
Join us now at 1 Police Plaza for an update on this morning's shooting in Brooklyn. https://t.co/TJ2XOsfpzs

— Mayor Eric Adams (@NYCMayor) April 12, 2022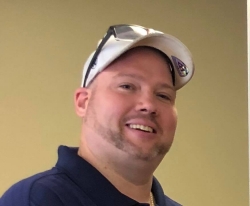 Latest posts by David Caron
(see all)