Former President Donald Trump made an appearance and dined with hundreds of Republicans during the Palm Beach County Republicans annual Lincoln Day fundraising dinner, which took place this year at his Mar-a-Lago resort.
It was previously reported that Florida's Republican Gov. Ron DeSantis and U.S. Sen Rick Scott (R-FL) would be in attendance and that the location of Palm Beach estate shows that the former president remains an influential force in Florida politics.
Former Secretary of State Mike Pompeo was in attendance as well as Republican Florida State Rep Anthony Sabatini, who shared pictures and video from the event, which was closed to the press.
Of Trump, the event's master of ceremonies James Golden, a radio personality and producer for Rush Limbaugh radio talk show, who is known by his pseudonym Bo Snerdley, said, "We love this man!"
There is optimism among Republicans that DeSantis and U.S. Sen Marco Rubio (R-FL) will cruise to victory in next year's election, based on the results for the state in 2020.
Michael Barnett, chairman of the Palm Beach County Republican Party, said "We are in good shape. We are feeling confident and energized."
Pompeo served as the keynote speaker and was recorded as saying, "This is quite a party." Sabatini described Pompeo's speech as an "amazing" speech by an "America-First hero."
Amazing speech tonight by America-First hero @mikepompeo! #MAGA pic.twitter.com/4YASghMGoF

— Rep. Anthony Sabatini (@AnthonySabatini) April 18, 2021
DeSantis and Pompeo were seated at the table with Trump during the dinner. Rubio was missing from the event due to a "personal matter" according to Barnett.
Sabatini summed up the night in a tweet where he said, "A great night with President Trump!"
A great night with President Trump!https://t.co/qJRxEQ4YiU

— Rep. Anthony Sabatini (@AnthonySabatini) April 18, 2021
A video shared by Sabatini showed Trump being swarmed by the crowd as he acknowledges various supporters.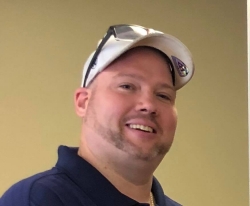 Latest posts by David Caron
(see all)