U.S. House Reps Lauren Boebert (R-CO) and Bob Good (R-VA) were among 10 House Republicans that met yesterday with former President Trump at his golf course in Bedminster, New Jersey.
Good posted a video of the duo on Facebook, where they discussed the meeting and an upcoming event that they would be holding in Standardsville, Virginia.
Good also shared a picture of himself with Trump and said in the post, "It was a true privilege to visit with President Trump at the Trump National Golf Club in Bedminster NJ."
"We had a great meeting with other conservatives in the Republican Study Committee (RSC), discussing our commitment to continuing the principles of the Trump Agenda," Good added.
The New York post reported last week on the then upcoming meeting and said that the Republican Study Committee (RSC) was planning to huddle with Trump in New Jersey as conservatives plan their messaging efforts heading into the 2022 midterms.
Chairman of the RSC, Jim Banks (R-IN) said that, "At Republican Study Committee, we've been very busy as we develop the consensus conservative agenda for the future of the Republican Party, and that agenda is the Trump agenda," noting that the June 10 trip to New Jersey would be the first time several of the members have met with Trump since he left office. 
Following the meeting, Banks reported that, "We spent nearly two hours with President Trump, who's in great spirits. We talked for most of the time about the work that the Republican Study Committee is doing to define the agenda for the future course of the Republican Party, which is fighting for the Trump agenda. We talked about our election integrity bill, The Save Democracy Act, which he was very supportive of, and we talked about what we've done to define immigration moving forward."
The New York Post also reported that Banks has looked to expand the role of the RSC — which is the largest conservative caucus in Congress — in the House GOP's messaging efforts, attempting to offer contrasting policy proposals to the Biden administration ahead of the next election cycle and according to one source in the room, Trump referred to the Indiana Republican as the "new type of leader we need in the party."
Banks added that Trump has vowed to hit the campaign trail for candidates who support the RSC's message ahead of the 2022 midterm elections and "We believe we take back the majority by focusing on the Trump agenda, and President Trump plays a big role in that. He's obviously planning to go out and hit the road and campaign for candidates who share our vision, and we were excited to talk to him about that."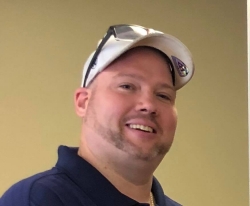 Latest posts by David Caron
(see all)