After Twitter permanently banned former President Donald J. Trump, and Facebook is still reviewing their ban of Trump as well, Twitter stock isn't doing so hot. Although Trump has a chance of coming back to Facebook, it's anyone's guess what the review board will say.
He is definitely gone from Twitter though. Although both Twitter and Facebook have been known for banning popular conservatives, allegedly for breaking their terms of service, Twitter seems to have been banning more people lately. Facebook does permanently ban some people, but more often it's 7 days or 30 days.
However, when you get suspended from Twitter, that's it. Although Twitter gives warnings as well, it seems to us that they are less friendly even than Facebook, both companies of which have more liberal-leaning employees than conservatives.
Donald Trump slammed Twitter after their stock recently plummeted, not just because of the earnings report but because of a grim outlook from forecasters. Many people only joined Twitter to follow Donald Trump. Now that he's gone, a lot of people are logging on much less would be our guess, although we don't have internal Twitter data.
Check out Twitter's major move down while almost the rest of the market has been inching towards news highs lately, including Facebook, which recently hit a new high: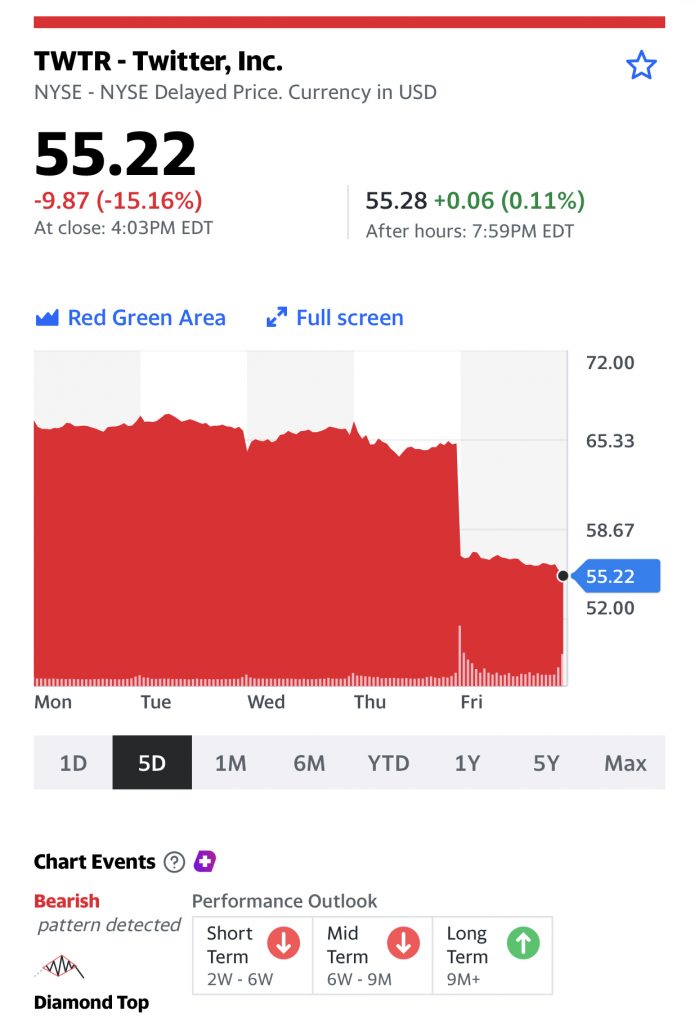 Jack Dorsey and his team at Twitter seem to have it out for conservatives in our view. They may disagree, but this is just our opinion.
Tim Swain, Republican candidate for Senate running against Tim Scott in South Carolina, posted Trump's slam:
"Twitter stock "plunged" as results are no longer cutting it for investors. Shares are off 15% today. Bad forecasts are hurting the outlook, but more importantly, in my opinion, it has become totally BORING as people flock to leave the site."
Trump continued in his official memo:
"Michael Nathanson stated, "the math doesn't make sense" as he lowered his price target. I guess that's what happens when you go against FREEDOM OF SPEECH! It will happen to others also."
#NEW President Trump Statement on Twitter Stock pic.twitter.com/3LdJ61P9RE

— Tim Swain (@SwainForSenate) May 1, 2021
Trump reportedly plans to launch his own social media site, but we have not seen that happen just yet. Previously we reported:
Former President Donald Trump is currently working on his own social media platform possibly called "Trumper" Jason Miller confirmed, who is a spokesman for Donald Trump and has close ties with the former president. Miller commented on the report today on Media Buzz.
Stay tuned for more updates.
Latest posts by Ian MacDonald
(see all)