Yesterday in the Rose Garden, President Trump was frustrated as multiple reporters asked questions by first reading off quotes that he supposedly said. First, PBS reporter Yamiche Alcindor falsely accused him of saying repeatedly that "equipment that Governors are requesting they don't actually need." Then CNN reporter Jeremy Diamond accused Trump, when talking about Governors, of saying, "if they don't treat you right I don't call."
Trump stopped him right there and told him that he was not reading the full quote. He then did his best to answer the question and before moving onto the next reporter, he told Diamond "this is why CNN is not trusted anymore, they are not trusted. They are fake news, remember that." Diamond replied, "No, we're not." To which Trump responded, "Yes, you are."
CNN did a fact check on both quotes the reporters used and with Alcindor, they were only able to find evidence that he implied it once rather than a direct quote as she claimed.
On the quote indicated by their own reporter, they linked to a transcript of Friday's briefing and while he said what Diamond accused him of, the context of it was being twisted.
Trump: I think they should be appreciative because you know what?  When they're not appreciative to me, they're not appreciative to the Army Corps. They're not appreciative to FEMA. It's not right. These people are incredible. They're working 24 hours a day. Mike Pence — I mean, Mike Pence, I don't think he sleeps anymore. These — these are people that should be appreciated.
Trump: He calls all the governors.  I tell him — I mean, I'm a different type of person — I say, "Mike, don't call the governor of Washington. You're wasting your time with him. Don't call the woman in Michigan." All — it doesn't make any difference what happens —
ABC News Jon Karl:  You don't want him to call the governor of Washington?
Trump:  No, no. You know what I say?  If they don't treat you right, I don't call. He's a different type of person. He'll call quietly anyway.  Okay? But he's done a great job.  He should be appreciated for the job he's done.
Diamond appeared to be attempting to imply that the President wasn't in touch with these Governors at all. As he said to Diamond, "Mike Pence calls, The Head of FEMA calls."
Trump has also been on conference calls twice a week with Governors according to Nebraska Governor Pete Ricketts (R) and he just talked to all the Governors on March 19th in a public video conference call, so these type of "gotcha" direct quote accusations is what gets him so frustrated with these reporters.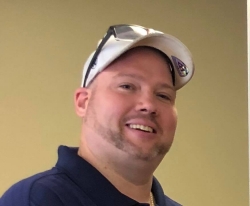 Latest posts by David Caron
(see all)