The U.S. Navy has announced that the hospital ship, USNS Comfort, sent to relieve New York City hospitals as coronavirus cases surged will leave this week and return to its homeport in Virginia.
Officials said in a statement yesterday that the USNS Comfort will set sail for Norfolk on Thursday. The ship had docked in Manhattan on March 30 after a March 28th send-off from Norfolk that was attended by President Trump.
The last patient left the ship on Sunday and it treated a total of 182 patients during its time in the harbor. "I believe Comfort not only brought comfort but also saved lives," NY Gov Andrew Cuomo said during a coronavirus briefing last week.
A U.S. Northern Command statement said, "Even as USNS Comfort departs NYC, the ship and its embarked medical task force remain prepared for future tasking. The Navy, along with other U.S. Northern Command dedicated forces, remains engaged throughout the nation in support of the broader COVID-19 response."
Gov. Cuomo claimed on Monday that a Brooklyn nursing home that's lost 55 residents to the Coronavirus was denied a request to transfer patients to the medical ship due to federal "protocol."
During questioning about the state's handling of a desperate, April 8 request for help from the Cobble Hill Health Center, Cuomo said CEO Donny Tuchman "should have told the Department of Health, 'I can't handle these patients.' "
"The Comfort is a federal facility. It doesn't take transfers from nursing homes," Cuomo insisted, implying his Health Deptartment was right to ignore the plea because Tuchman didn't ask the right question.
"The specific protocol on that specific ship said the people have to come from a hospital because when they come from a hospital, the hospital has to do a full workup, so when they are referred, they are referred with a full workup."
Yesterday, jets from Navy's Blue Angels and the Air Force's Thunderbirds flew over New York City and the ship in a tribute to the medical personnel, first responders, and other essential workers involved in fighting the pandemic.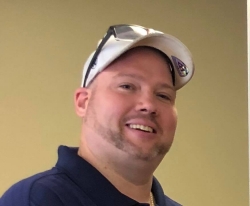 Latest posts by David Caron
(see all)