President Trump is holding a "Keep America Great" 2020 campaign-style rally tonight in Cincinnati, OH, at the U.S. Bank Arena. Posted on the arena's website:
TRUMP CAMPAIGN ANNOUNCES RALLY THURSDAY, AUGUST 1 – CINCINNATI, OH
New York, NY – Today, Donald J. Trump for President, Inc. announced that President Trump and Vice President Pence will host a Keep America Great rally on Thursday, August 1 at 7:00 pm EDT at U.S. Bank Arena in Cincinnati, OH. This is the 29th rally that President Trump has held in Ohio and the fourth rally in Cincinnati since he first began his race for president in June, 2015.
"President Trump looks forward to celebrating his achievements with the great men and women of Ohio," said Michael Glassner, Chief Operating Officer of Donald J. Trump for President, Inc. "With a stunning 224,000 jobs created in June, 3.1% wage growth over the last year, and unemployment at its lowest point since 1969, President Trump continues to reach new economic heights and create opportunity for Americans across the nation."
In the midst of increased trade issues with China, while Shep Smith on Fox News reports that he believes the economy will be hurt because of today's temporary drop in the markets and increased tariffs, Trump is not fazed and getting amped up for tonight's rally.
President Trump did issue a long tweet regarding the situation in China recently after his earlier tweet about the rally. See the tweets below in a linked screenshot and an embed.
SEE TWEETS FROM @realDonaldTrump BELOW: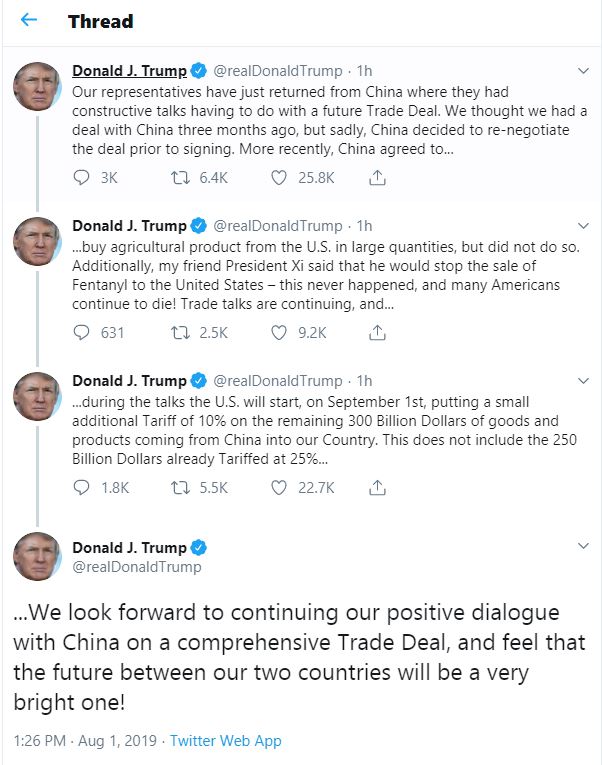 A Trump supporter and Twitter user posted a video earlier today showing the long lines and massive crowd outside the arena for tonight's rally, which will likely be at capacity with people left outside who won't be able to get in.
SEE VIDEO FROM TWITTER USER @smalltownandrew BELOW:
Some media outlets are saying this rally will be open to much scrutiny after President Trump's last rally in Greenville, North Carolina where the crowd there chanted "send her back" in regards to Minnesota Rep. Ilhan Omar. Trump subsequently issued a statement that he did not support the chant, but later after that stated that his rally fans are patriots.
Latest posts by Ian MacDonald
(see all)