Donald Trump returned yesterday to his home in Florida at the Mar-a-Lago resort after four years serving as president.
A video shared by his former White House Deputy Chief of Staff for Communications, Dan Scavino, shows a crowd of his supporters welcoming back as police, lining the streets blocked off by police for his motorcade to pass through.
January 21, 2021
In a speech given before boarding Air Force One for the final time yesterday, Trump said it had been his "greatest honor and privilege" to have served as president and vowed that "we'll be back in some form."
Many replied to Scavino's video in support of the former president and those who came out to greet him.
Tell me again how Biden won.

— 🇺🇸🇺🇸Pat Shelley🇺🇸🇺🇸 (@patteepoo) January 21, 2021
This is absolutely amazing and is what real America is! 🇺🇸

— Traci Nicole (@tracinicoleburt) January 21, 2021
More patriotic than the inauguration 🇺🇸🇺🇸🇺🇸

— JoJo (@cryingforUS21) January 21, 2021
Greatest President ever.

— Evan Kilgore 🇺🇸 (@EvanAKilgore) January 21, 2021
A Bloomberg article last week noted that several former aides who may continue to work for Trump after the White House.
Those include Nick Luna, the director of Oval Office Operations and Trump's "body man;" Molly Michael, a deputy assistant to Trump; and Cassidy Hutchinson, an aide to Chief of Staff Mark Meadows.
It has also been reported that he has faced some opposition to his return to the resort as a lawyer representing several of his neighbors demanded that Palm Beach declare that the former president can't live at Mar-a-Lago and cited an agreement he made with the city in the early 1990s when he converted the property from a private residence to a private club.
Clearly, however, the city hasn't done anything that would prevent Trump from living there yet.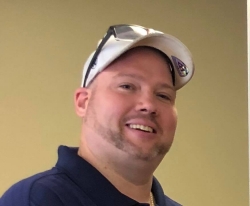 Latest posts by David Caron
(see all)