Violent protests broke out Sunday night after an officer shot and killed a man who charged at him with a knife. Multiple videos showed protesters throwing things at officers and buildings as well as blocking streets and setting fires.
PENNSYLVANIA: you can see how many projectiles, including water bottles, rocks and brick fragments were thrown at Lancaster police who were clearing the precinct ramp pic.twitter.com/8zLBG3CUcV

— ELIJAH RIOT (@ElijahSchaffer) September 14, 2020
BREAKING: police make a full offensive in Lancaster, Pennsylvania to clear out BLM and Antifa rioters

After they destroyed city property, including a police vehicle, created barricades, and threw rocks/bricks at officers

The unlawful assembly was declared hour ago pic.twitter.com/pg8K5wG9qd

— ELIJAH RIOT (@ElijahSchaffer) September 14, 2020
PENNSYLVANIA: police use CS gas, stun grenades, mace, and rubber billets to clear BLM protesters who attempted to occupy the police precinct back lot pic.twitter.com/MbTM7s5yBH

— ELIJAH RIOT (@ElijahSchaffer) September 14, 2020
Republican Heather Adams is the first female attorney of Lancaster county and she issued a statement following that night of unrest
"This office fully supports the right to gather and peacefully protest, however, the riotous behavior exhibited last night is completely unacceptable and will not be tolerated. Such lawless conduct only takes away from those working with the community to address issues worthy of discussion. Make no mistake, those who cannot peacefully protest and instead resort to violence will be prosecuted and held fully accountable," Adams said.
September 14, 2020
Officers made a total of 13 arrests that night and every suspect who has been given arraignment so far as received a $1M bail except one who is being held on a detainer because he was on probation.
Arrests made related to arson/riot Lancaster Bureau of Police station 9/14/2020 https://t.co/UD9IQ6uEdv

— Lancaster Police (@LancasterPolice) September 15, 2020
Last night, video shows a protester telling other protesters through what sounds like a megaphone that they "can not do this, you have to understand, you all are going to be arrested. It is not worth it."
Ian Miles Cheong speculated that "Black Lives Matter activists in Lancaster are all skittish and afraid of getting arrested because they just learned that bail is being set at 1 million dollars. Lancaster is not Portland."
Black Lives Matter activists in Lancaster are all skittish and afraid of getting arrested because they just learned that bail is being set at 1 million dollars. Lancaster is not Portland. pic.twitter.com/wGh0K6D9KN

— Ian Miles Cheong (@stillgray) September 15, 2020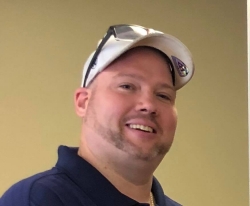 Latest posts by David Caron
(see all)