We reported last month that the Democrat-led Virginia Senate passed a bill that would remove mandatory jail sentence for those who assault a police officer and allowed for allowed a court or jury to reduce the charge for that kind of assault from a felony to a Class 1 misdemeanor.
Although Democrats also control the House and Governorship in the state, delegates from both parties voted yesterday to refer the bill for study in the Virginia State Crime Commission rather than advance it out of committee.
Del. Jeffrey Bourne (D-Richmond) made the motion to pass on the bill and said, "Words, definitions, standards matter, when we're talking about these very weighty issues … It needs to be done right."
Del. Ronnie Campbell (R-Rockbridge) supported Bourne's motion to pass on the bill and refer it for further study, said "I'm concerned that this bill in itself will basically declare open season on police officers."
Del. Rob Bell (R-Charlottesville) questioned what sort of attack could fall under the statute of what could really be downgraded from the felony to the misdemeanor.
VACP President Chief Howard Hall previously criticized the bill, saying that "Efforts to eliminate qualified immunity, decrease funding for state and local law enforcement and "defelonizing" assault and battery on a law enforcement officer will do nothing but erode our ability to effectively provide public safety services."
"Many of the proposed police reforms will do nothing to protect victims or reduce crime," Hall added.
From DCist:
Sen. Scott Surovell (D-Fairfax), who patroned the bill that passed the Virginia Senate, vowed to bring it forward again, either in the coming regular session or the one after it.
"A six-month mandatory minimum sentence does not make a lot of sense when somebody has no injury," he said. "The penalty system is just totally out of whack for most of the conduct that we're talking about."
Police opposed the bill. Wayne Huggins, executive director of the Virginia State Police Association, told lawmakers he objected to using bodily harm as a standard for assigning charges.
"The fact that there is no bodily injury does not mean that an assault was not attempted," Huggins said. "Somebody throws a punch at us, or somebody swings an object at us, and we're able to block it and not get injured — that person, in my opinion, should be as culpable as somebody who does connect with a punch or a blunt-force object."
"Once again House Democrats have demonstrated that their top priority in this special session is making life easier for criminals," said House Republican Leader Todd Gilbert (R-Shenandoah) in a statement.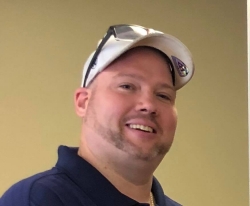 Latest posts by David Caron
(see all)