Earlier today, President Trump retweeted English media personality Katie Hopkins where she wrote that Baltimore had the highest murder rate in the US and included a video of a group of kids surrounding a police civilian employee and beating that person to the ground.
SEE TWEET WITH VIDEO BELOW:
While St. Louis has had the #1 slot for homicide rate since 2014, Baltimore is giving them a run for their money this year. Last year they were the runner up and they have been at least twice during that time span. These statistics have been hard to find at times as many media outlets don't appear to be so keen on coverage of this.
According to a local CBS report, as of July 11th, murders were up by 16 percent compared to last year. Overall shootings were up 28 percent. The Baltimore Police appealed on Twitter using the hashtag #CityinCrisis and got little response from the community.
SEE TWEET BELOW:
Now compare that with the trending hashtag '#WeAreBaltimore' after President Trump's tweets, which were aimed at Elijah Cummings for remarks made about conditions at the US/Mexican border. This hashtag has been mentioned over 100k times and counting, including by failed Democrat politicians such as former Florida Gubernatorial candidate Andrew Gillum, who references US Senator Rick Scott. Some are even trying to sell shirts with the phrase on them. Baltimore Mayor Bernard Young has also spoken out in anger against the President on this topic.
Ironic that Andrew Gillum thinks he has room to talk though, considering he himself presided over the city of Tallahassee, FL, which has suffered from extreme crime problems itself! To be fair, this article highlights how crime in Tallahassee has actually gone down some in recent years, although murders have stayed higher than Miami and Orlando. Also, the overall crime averages remain higher than the rest of the state of Florida.
In an old video of Governor Ron DeSantis debating Andrew Gillum, DeSantis challenges him on this very issue. See the video below, starting at about 2:00, and keep scrolling for the tweets.
SEE VIDEO OF GILLUM AND DESANTIS BELOW:
SEE TWEETS FROM ANDREW GILLUM AND T-SHIRT SELLER SCOTT NEUMYER BELOW: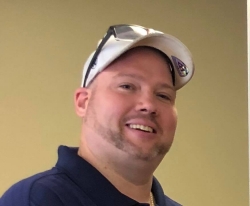 Latest posts by David Caron
(see all)