Today on ABC's "The View," Whoopi Goldberg politely set the record straight after a woke movie critic thought she wore a fat suit in her new movie "Till."
The reviewer for the Daily Beast, Kyndall Cunningham, is Twitter verified and despite having a link in her bio, her tweets are protected so it is unclear how she has responded to getting called out, although not by name.
It appears that many in addition to the New York Post, were able to uncover, quickly, who Goldberg was referring to when she called them out on the show.
There are responses to tweets that Cunningham made, so it is clear that she only recently had locked her Twitter account.
"The View" shared a clip from the show:
"WhoopiGoldberg speaks on the importance of her film 'Till,' which premiered at New York Film Festival, and she addresses a claim that she wore a fat suit in the film."
"'You should know that was not a fat suit,' she says. 'Just comment on the acting.'"
Goldberg also said, "If you have a question, ask somebody, I'm sure you didn't mean to be demeaning."
Cunningham's bio says that she "is a Baltimore-based entertainment reporter for The Daily Beast covering television, movies, music and other corners of pop culture."
"She studied journalism and women's studies at Towson University. Her other bylines can be found at B*tch Media, Polygon, Vulture and Glamour among other places."
.@WhoopiGoldberg speaks on the importance of her film 'Till,' which premiered at New York Film Festival, and she addresses a claim that she wore a fat suit in the film.

"You should know that was not a fat suit," she says. "Just comment on the acting." https://t.co/cVclFZQmjA pic.twitter.com/V7ULf3c8Pi

— The View (@TheView) October 3, 2022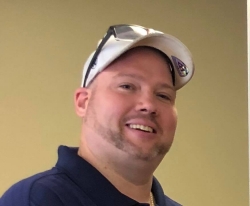 Latest posts by David Caron
(see all)