The wife of a man, Chris Green, who was hit by a Confederate soldier statue Wednesday night said yesterday that doctors put him into a coma as they treated him for his injuries. She said that her husband of 13 years flatlined twice while he was on the way to the hospital.
Green's wife, Tonieh Brisbane-Green, wasn't with him at the demonstration. She said she was upset that the vandals "didn't think" when they pulled the statue down.
Brisbane-Green said she supports people's right to protest, "but do it in a peaceful manner. There was no need to do all of that especially while there were so many people around that statue knowing that somebody's going to get hurt."
She said that they performed emergency brain surgery on him and that he has a broken neck. "He's just, he can't do anything. He's just laying there. It's hard to see him like that," she added.
From 13NewsNow:
She said doctors told her "they were surprised he even made it because that thing [the statue] is so heavy." 
Right now, she said she's in a state of shock over what happened. 
"I just feel like I'm in a dream right now. Like, I just need to be pinched to wake up and everything will go back to normal."
Even more, she's left questioning how this happened. So far, she said she's heard her husband's back was turned to the statue at the time it came down.
"So he didn't even see it coming, like, 'Oh, let me move out of the way,'" Tonieh said. "And then I heard it was hard for the ambulance to even get to because of the crowds."
According to Sgt. Michelle Anaya, a spokeswoman for Virginia State Police, Green remains hospitalized in stable condition. Portsmouth Police asked state police to investigate the man's injuries. Whether any charges are filed from the incident would be determined by the commonwealth's attorney, Anaya said.
From The Virginia-Pilot:
Rocky Hines, one of the organizers of Wednesday night's protest, set up a GoFundMe page for Green. He didn't know him before Wednesday, but said Green had been there much of the day. He felt compelled to do something after hearing so much about him, he said.
"We are responsible for this, and we need to right it in whatever way we can," he said.
Hines has been in touch with Green's family since Wednesday night.
"I apologized on our behalf, and she (Green's sister) said he doesn't want anyone upset with us," Hines said. "His family is not upset, they are hurting."
He didn't give specifics on Green's condition but said he is responding to some of the neurological tests, which is a good sign. However, he is "not quite out of the woods."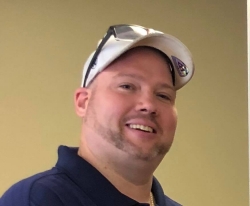 Latest posts by David Caron
(see all)