With $90 million spent on a "Batgirl", Warner Bros. Discovery officially announced Tuesday they were killing the movie post filming. The movie was nixed after test screenings ratings came back abysmal.
According to a film industry source who spoke to "The New York Post", the film was receiving ratings in the 30s on a scale that goes up to 100.
The original budget for the film was $75 million and had ballooned to $90 billion due to Covid. Adil El Arbi and Bilall Fallah were the directors of the film.
It seems extremely odd that the movie would be shelved post-production, however, commentator Mark Dice shared that "they're worried it will damage the DC Comic brand."
Mark Dice Shared on Facebook:
"The new Batgirl movie, staring a lesbian "Latinx" girl as the superhero, must have been so woke it put test audiences to sleep, so the studio has announced that they're going to shelve it, and not even release it! (It's already done shooting and in the can by the way) They're worried it will damage the DC Comic brand, it's that bad. Now I want to see it!"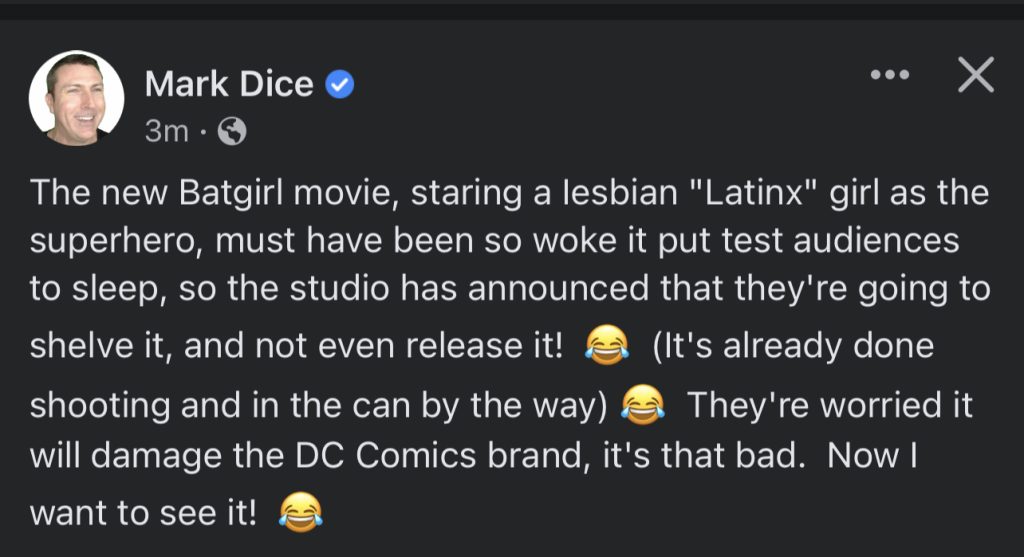 Leslie Grace who played batgirl in the canned film had made the rounds excitedly doing interviews about the role. Michael Keaton had put back on the cape and was playing batman again after a 30-year hiatus that we will now miss out on. Brendan Fraser was cast as the villain in the film and J.K. Simmons was cast as Commissioner Gordon, batgirl's father.
With that supporting cast, one would think it would have drawn better scores when testing, but as Dice said, "must have been so woke" it tested poorly.
Streaming wasn't an option as HBO Max had no interest in hosting the film. Casey Bloys, the chief content officer of HBO and HBO Max, didn't want it anywhere near his streaming service according to "The New York Post"
With the film being in post-production, many fans want to see the film no matter how bad it may be but the decision has already been made to try to wipe the blemish from existence. An industry source said, "He's famous for his complete inability to deliver bad news. He is confrontation-averse. A scared little bunny," about Warner Bros. co-chair Mike De Luca.
Below is an ET interview with Leslie Grace about the film and playing batgirl and her excitement over the film before production.
Latest posts by Kay Williamson
(see all)