2018 Virginia U.S. Senate GOP Nominee Corey Stewart went live on Facebook to express his support for the recent Kyle Rittenhouse verdict as the jury found Rittenhouse not guilty on all counts.
As we previously reported, "Kyle Rittenhouse faces 5 charges after the 6th and 7th charges were thrown out, which were for the alleged underage gun charge and alleged breaking curfew charge.
Rittenhouse was charged in the shootings that left 2 dead and one injured in Kenosha, Wisconsin.
This story will be updated as necessary. Clearly, in the eyes of many, self-defense has been put on trial and won. Catch up on all our Kyle Rittenhouse trial coverage on the website here."
Stewart said, "Finally there was just served… as Kyle Rittenhouse was acquitted of the charges against him and rightfully so. Here is a young man, 17-years-old, goes out in the call of duty, to go out there and to help defend Kenosha, Wisconsin, and the business owners, and the residents there."
Later in the video, Stewart went after the "Antifa thugs" who rioted and looted across the country from city to city run by Democrats. Stewart is also the former Trump campaign manager of Virginia who has a long history of being a Trump supporter and conservative fighter.
Some may wonder whether or not Stewart will decide to run again for office in Virginia in 2022 or beyond. This comes as Republican Glenn Youngkin was able to win in an upset against Democrat Terry McAuliffe earlier this month for the Governor's race. Stewart endorsed Youngkin in the GOP primary earlier this year helping propel him to the Governor's seat.
Stay tuned to Media Right News for more updates.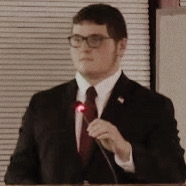 Latest posts by Joshua Troiano
(see all)