A famous 32-year old rapper was killed yesterday during a late-night double shooting in north St. Louis County. The second victim's injuries were not thought to be life-threatening. according to police.
Lawrence Franks, Jr., better known by his stage name Huey, was one of two people shot in the 8100 block of Martin Luther King Blvd. in Kinloch just before 11 p.m, according to St. Louis County police.
Huey was rushed to a hospital in a private car by someone at the scene, but he died after arriving at the hospital according to police and he had been shot at least once. St. Louis County police Sgt. Benjamin Granda said the second victim, a 21-year-old man, went to the Ferguson Police Department at 222 South Florissant Road after being shot.
According to News 4, a neighbor said Huey's family members live in the home and he would often stay with them. One verified Twitter user, Bruce Franks Jr., said, "They killed my lil cousin."
They killed my lil cousin? https://t.co/jgrv7cqJHV

— Bruce Franks Jr (@brucefranksjr) June 26, 2020
His current manager, who goes by the name, Coolaid, said, "This senseless violence has got to stop."
From STL Post Dispatch:
The two were shot in the front yard of a home in the 8100 block of Martin Luther King. As many as 10 people may have witnessed the shooting, police said, and detectives are asking witnesses to come forward to help police find the killer.
One of Huey's associates told the Post-Dispatch that it was a drive-by shooting. Granda said, "That possibility is being evaluated."
Police released no details Friday about a possible motive. They also haven't said if they have any suspects. 
Crime-scene tape was put up in an area that included a home at 8173 Martin Luther King Boulevard, which is east of Interstate 170 and south of Airport Road. The two-bedroom brick bungalow has white columns and a lion statue in front, and a tarp partly covering the roof. St. Louis County property records list the home's owner as Otis Hughes, who could not be reached for comment.
The home belonged to Franks' family, his first manager, Enrico Washington, told the Post-Dispatch. Franks himself lived at a downtown loft near Busch stadium, in the 1100 block of Spruce Street in St. Louis.
Washington was a mentor and longtime friend who helped guide Franks' music career. Another rapper called Washington in Georgia about 4 a.m. Friday with news of Huey's death.
"He enjoyed life," Washington said. "Just happy about life … You're talking about a young man who still had a lot of life to live."
Franks was still earning royalties off the original hit single, Washington said. He was interested in building apartments and housing in St. Louis and had talked with Washington in recent years about becoming a businessman.
"Kinloch is no easy place to live," Washington said. "It's tough. But he was living the entrepreneurial spirit. He was doing it the right way."
Post-Dispatch pop music critic Kevin C. Johnson wrote in 2013 that "Pop, Lock & Drop It" was the debut single from the rapper's 2007 album "Notebook Paper," and it flew straight into the top 10, making him one of a wave of St. Louis rappers finding popularity after Nelly and Chingy.  Huey was known beyond the rap community, and his song was a pop hit as well.
He attended Berkeley High School and McCluer High School before earning his GED. He has a teenage daughter, Lawryn. 
"It was really rough," said Franks, the youngest of four children. "My mama and daddy were on drugs. My brother was in and out of jail. The foster people were chasing me. It was crazy."
In 2013, he had signed a deal with rapper Waka Flocka Flame, but not much materialized from that and Franks had been relatively quiet on the music scene in recent years. He was said to be filming a new video this weekend. He rented a mansion in south St. Louis County to film the video for a song called, "Lap Dance."
"My heart is hurt," said Coolaid, a St. Louisan who is Huey's current manager. "We were on the phone six, seven times yesterday. He was with his family. He was happy. He was excited about the video and about making a comeback. We believed this was the one."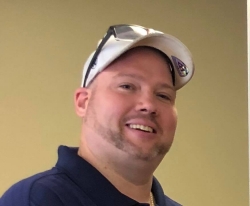 Latest posts by David Caron
(see all)