In a recent interview with CNN, Alec Baldwin described himself as a victim too after he shot and killed cinematographer Halyna Hutchins on the set of "Rust."
Baldwin says that he lives in fear of Trump supporters and he also attempted to shift blame for who was responsible for the fatal shot.
"The former president of the United States said he probably shot her on purpose. To me that was really the only time that I needed — that I was worried about what was going to happen because here was Trump who instructed people to commit acts of violence and he was pointing the finger at me and saying I was responsible for the death."
"One thousand percent, I'm nervous that a bunch of people who were instructed by the former president to go to the Capitol — and they killed a law enforcement officer — and you don't think that I think to myself, 'Are some of those people gonna come and kill me?'"
In regards to who was responsible for the fatal shot, Baldwin said that "Someone put a live bullet in the gun who should have known better."
Baldwin pointed the finger at the armorer and props assistant on the film, Hannah Gutierrez Reed at one point.
"That was her job. Her job was to look at the ammunition and put in the dummy round or the blank round, and there wasn't supposed to be any live rounds on the set."
Baldwin also threw assistant director Dave Halls, who handed him the gun, under the bus as he said, "There are two people who didn't do what they were supposed to do."
"I'm not sitting there saying I want them to, you know, go to prison, or I want their lives to be hell. I don't want that, but I want everybody to know that those are the two people that are responsible for what happened."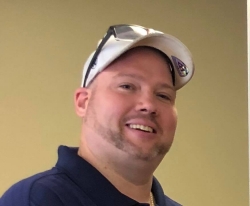 Latest posts by David Caron
(see all)