More footage is coming in from the scene around Walter Reed Medical Center and it appears that altercations are still taking place, despite the best effort by the police.
In a new video a police car appears to now block off a turning lane that became a temporary parking spot for a man to leave his car and confront Trump supporters who were gathered there.
This time, an angry liberal, who was a passenger in a Jeep Grand Cherokee pulled himself up through the sunroof of the vehicle to flip off the supporters gathered there and yell obscenities.
A man drives up to flip off the Trump supporters gathered outside the hospital #Trump #WalterReed #WalterReedHospital pic.twitter.com/0gsIYza6sk

— Brendan Gutenschwager (@BGOnTheScene) October 4, 2020
It appears that they were stopped at a red light when this happened. One of the Trump supporters gathered there walked in front of the vehicle to wave an flag at the angry person and yell "Trump 2020."
Police have now brought out fencing to separate the Trump supporters from the traffic and "have more control of the area" according to Brendan Gutenschwager who is filming the evolving scene.
Police are bringing out the barricades #Trump #WalterReed #WalterReedHospital pic.twitter.com/RlDrVadK81

— Brendan Gutenschwager (@BGOnTheScene) October 4, 2020
Police are moving barricades in place to have more control of the area around the Walter Reed Hospital entrance #Trump #WalterReed #WalterReedHospital pic.twitter.com/6kNilSfOBL

— Brendan Gutenschwager (@BGOnTheScene) October 4, 2020
Fencing is being put up around the Trump supporters to separate them from the traffic #Trump #Trump2020 #WalterReed #WalterReedHospital pic.twitter.com/7X7rXndWHt

— Brendan Gutenschwager (@BGOnTheScene) October 4, 2020
It was reported yesterday that there were occasional clashes between supporters and critics. According to the local report, in one incident, a group of four local teenagers stood on the fringes of the crowd and began chanting, "Black lives matter."
Led by a young man with a bullhorn, some of the Trump supporters began chanting over the teens, "blue lives matter" and in a video of the argument, he could be heard saying "all lives matter" and asking them to change the sign to "criminal lives matter."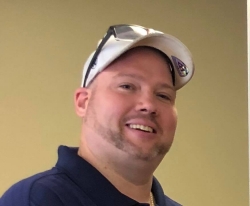 Latest posts by David Caron
(see all)