Previously we reported about a story where a woman was told to leave a Boise, ID restaurant for not wearing a city-mandated mask. Although restaurants reserve the right to refuse service, the local mandate does allow exemptions for medical reasons, and if people can safely social distance. The store has said that they can still refuse service despite exemptions and have cited 'fake' medical cards going around as not being a reason to be allowed in their store without a mask. One of the customers in a video that has now been removed by YouTube called the woman a dumb b*tch for allegedly not leaving when she was asked.
We previously reported but removed the story due to the video being removed from YouTube in part:
An older woman filmed herself being kicked out of a Boise, ID Sushi shop a few days ago, and the views are starting to rack up on YouTube. Pam Hemphill and a friend of hers as well just wanted a cool refreshing beverage from a place called Dharma Sushi.
They both say they have medical conditions that prevent them from wearing masks. The employee told them to leave though, and when Pam confronted her about not accommodating her due to her condition, the front desk person with a 'Black Lives Matter' mask on became extremely defensive and said that there were no exceptions and that everyone had to wear a mask. This, of course, doesn't apply to people sitting down and eating just a few feet away.
Many of the customers inside took the side of the employee, one young woman flipped Pam off and called her a 'dumb bitch' despite no provocation. Although Pam and her friend didn't stay inside the store long, it looks like police were called.
Throughout the video, the Boise PD appeared to be fair and listened to what people had to say while attempting to de-escalate the dramatic turn of events that ensued from what appears to be two senior citizens who simply wanted a cool drink as they were spending time in the downtown metro area. It's unclear exactly what happened before the video starting recording, but it doesn't seem like Pam or her friend were rude to anyone and it doesn't seem like it was warranted for the rudeness from customers and an employee.
The local news station covered the first incident as well, of course putting it in a slightly different spin and leaving out the part about the customer with the foul language, who nobody seemed to have an issue with. There was some dispute about one of the two people using a 'medical card' that was not actually approved by the ADA according to Idaho News 6.
Well, we received a tip from a local woman about a similar, possibly much worse story happening at the same establishment. The woman was in the downtown area at a peaceful protest this week against human trafficking. She came upon 'Dharma Sushi' and was having some thirst issues after running out of her water which she brought with her that day, coupled with some health issues she claims were exacerbating her situation but did not have a face mask at the time. She claims all she wanted was a cup of water and was immediately told to get out of the restaurant without any accommodation attempt.
According to a statement we received from the Caldwell, Idaho woman:
My kids, ages 5, 7, and 9 were at the Save the Children event and stopped by the closest restaurant we saw, Dharma Sushi. We went in and they said we needed a mask which we didn't have because I forgot. I said I have a medical condition (at no point did I say I was exempt or had some made-up card). I was actually having tachycardia at the time because it was 100 degrees out and I have WPW which is a heart condition that puts me at risk for a heart attack if it gets too fast and Postural Orthostatic Tachycardia which causes tachycardia while standing or during heat especially. I said I really just needed water bad and I'll get out, but the owner shook his head and went off on a rant how a medical condition is not a real thing, that the ADA, medical exemptions and everything else was just an excuse and said he would not serve me, not even a water. I told him I was having Tachycardia and I really needed water and he still refused. Even my kids were begging for water. I didn't yell, I wasn't rude, I just said I guess I will have to get water elsewhere but reiterated I was legitimately having issues…Saying sorry politely that you can't serve me is one thing, it's not like I was trying to order sushi, I don't have a right to Sushi, but I'm having a medical problem and that's just heartless and cold. Just because I appear to be healthy and young, does not mean I don't struggle with health issues. Had I been an elderly man sweating and pale, would he have responded differently? Who refuses someone water??? He didn't even offer to let me buy any outside or bring me a glass which I would have been absolutely fine with. This was not a publicity stunt. I literally just needed water. I did not target this restaurant, I'm not familiar with downtown, had I been I would have gone straight to Bodega who ended up serving me. If I would have known the drama that happened and the business owners staunch stance on the masks, I certainly would have gone elsewhere. I am saddened by this world…What has happened to humanity and caring for one another?
The woman didn't want us to use her name but wanted it to be clear that this was not a publicity stunt, nor was it related to the other story we mentioned at the beginning of this piece. We reached out to Dharma Sushi for a statement and they have not responded directly but their official page made a comment about the situation which can be seen below.
It's understandable that a business should want to enforce the mask laws to prevent the spread of Covid-19, but this statement seems a little bit heartless to us, in which they claim that anyone having a medical emergency around their establishment should simply call 911.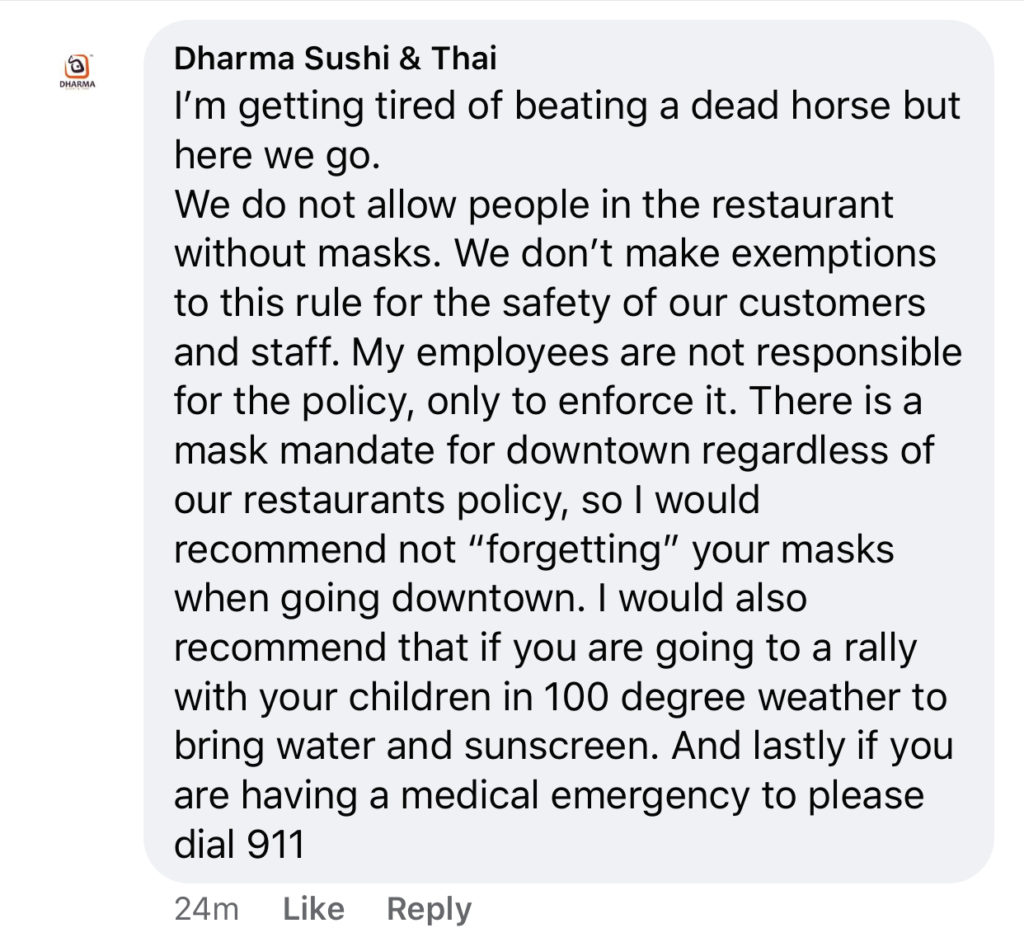 We will try to add any updates if we get them including possible responses from the establishment, the woman, or the local news channels.
UPDATE #1 12:35 ET: The woman responded to the restaurant on social media, received another apparently heartless (in our opinion) response where the restaurant claims they shouldn't have to handle the situation with 'white gloves', and then the woman responded once more as you can see in the exchange below: (we were asked to leave the woman's name off the screenshots)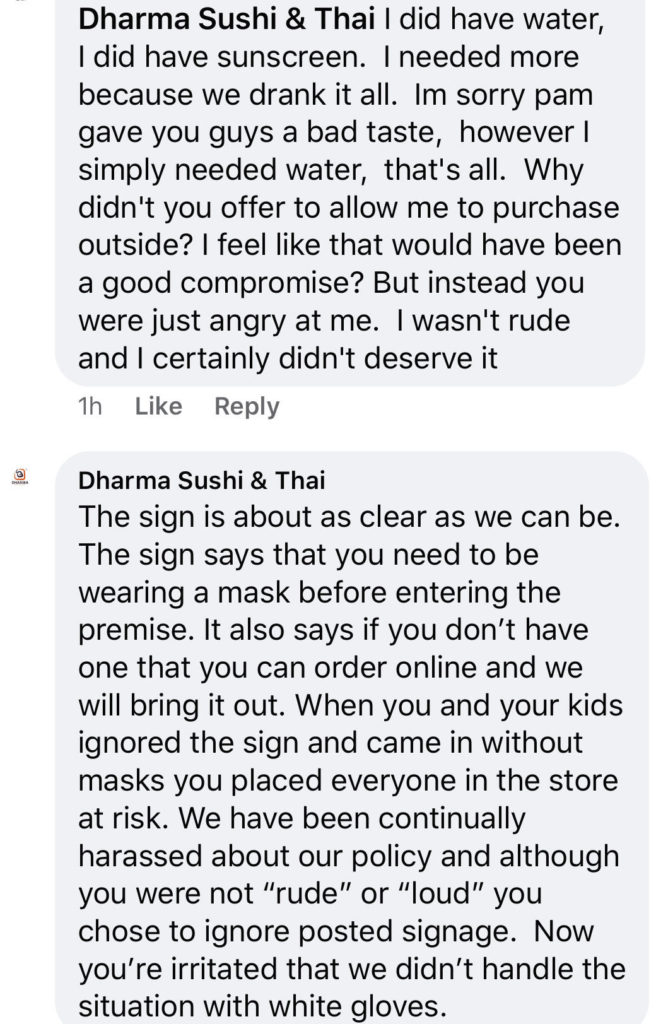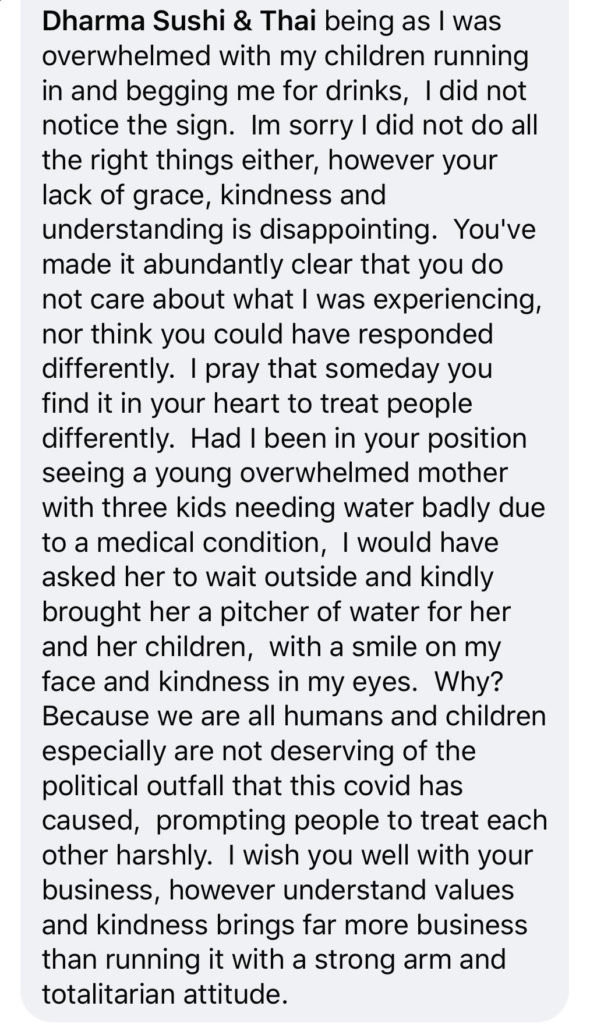 Latest posts by Kay Williamson
(see all)