UPDATE #1: This article has been updated with the source of the image that is going viral on social media at 10:25 EST. The update can be seen at the end of the article that came from "Parler".

UPDATE #2: The title has been updated at 10:40 EST to reflect the source of the viral image that caused confusion. It's unclear exactly when the Twitter account was suspended.
Earlier today Media Right News reported that Clint Eastwood shockingly came out in support of former New York City mayor Michael Bloomberg for president instead of President Trump, who many probably assumed he was supporting. What appears to be a doctored social media post, from a "Clint Eastwood Fan account" went viral on the internet, causing much confusion on whether or not the original story was true.
Unfortunately for many fans of Clint Eastwood's, who are probably conservative as well, the news is 100 percent real and true regarding Eastwood's support of Bloomberg. Additionally, some people took this image and cropped it which made it even more confusing.
What a horrible thing for someone to do to one of our favorite patriots! Big apologies to him. I will never believe another breaking report till I see the response!! Love you @ClintEastwoodLA pic.twitter.com/vzJxhsYVu5

— Peggy Carter (@PeggyAnnCarter) February 22, 2020
Use caution as we do not know the origins of this image in the tweet.
Some social media users appeared to think that it was an actual tweet from Clint Eastwood "debunking" the true story. All this goes to show just how shocking and unexpected this report really was and clearly Eastwood's fans, well, at least some of them appear to be in a state of denial. It's clear that after reports from Washington Post, Breitbart and the story we reported earlier, It's definitely true. From our earlier report:
"Clint Eastwood spoke with the Wall Street Journal about the current political landscape and explained his support of Democratic presidential candidate and former Mayor of New York City Michael Bloomberg. According to The Hill, "He said he was backing Bloomberg in part because he would like to see Trump be more 'genteel' in office. 'The best thing we could do is just get Mike Bloomberg in there,' Eastwood said in an interview with The Wall Street Journal, adding that he would like to see Trump act 'in a more genteel way, without tweeting and calling people names.' The comments from the 89-year-old Oscar winner come as Bloomberg faces criticism over his past comments about women and his support for the controversial stop-and-frisk policy."
An account on Twitter with the handle @ClintEastwoodLA appears to have been subsequently suspended. The handle matches the top of the potentially doctored image and was likely a Clint Eastwood fan account. It's unclear what was actually posted on the feed of this Twitter handle, or what terms of service violations might have been made.
Perhaps more information will come to light as the story unfolds. It does not appear that Clint Eastwood has an official Twitter handle. Many will be likely staying tuned to see if the real Clint Eastwood has any details or context to add the shocker.
The update at the beginning of the article refers to the image below which is the original source of the viral image described in the article. This image is from a "conservative" social media platform "Parler". The handle on both Twitter and "Parler" accounts are the same but it cannot be confirmed if it is the same person running both of the accounts. See the screenshot of the "Parler" post below: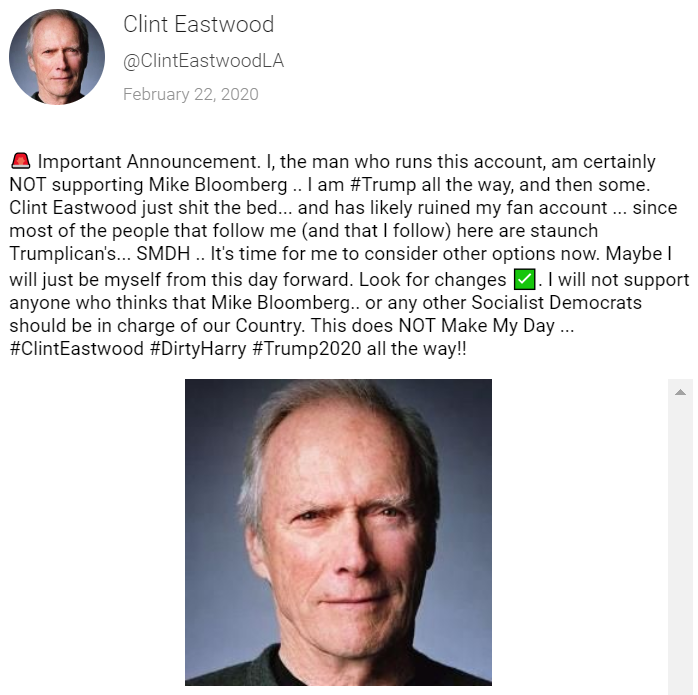 Latest posts by Kay Williamson
(see all)