President Donald J. Trump is currently on a multi-day trip in India, which has included a rally titled "Namaste Trump" with an attendance of more than 100,000 people, a visit to the Taj Mahal, and time spent with Indian Prime Minister Narendra Modi. The mission of this trip is to strengthen the United States-India relationship.
According to Reuters, U.S. officials have described Trump's visit as a way to counter China's rise as a superpower. "'You have done a great honor to our country. We will remember you forever, from this day onwards India will always hold a special place in our hearts,' Trump said to thunderous applause. India is one of the few big countries in the world where Trump's personal approval rating is above 50%. It has built up ties with the United States in recent years as Washington's relationship has become strained with India's foe Pakistan."
Trump announced that a $3 billion dollar defense deal will be signed. According to Reuters, "Trump said the two countries will sign deals on Tuesday to sell military helicopters worth $3 billion and that the United States must become the premier defense partner of India, which relied on Russian equipment during the Cold War. Reuters reported earlier that India has cleared the purchase of 24 helicopters from Lockheed Martin worth $2.6 billion."
The "Namaste Trump" event was held in the Sardar Patel Stadium, which has a seat capacity of 110,000. View a video from PM Modi's Twitter of the rally below: 
Unparalleled vibrancy at the world's largest stadium. Watch… pic.twitter.com/RupPFsOq2z

— Narendra Modi (@narendramodi) February 24, 2020
Additionally, the song "Macho Man" that was released in 1978 by Village people was played when Trump entered the stadium. View that below: 
India plays "Macho Man" by Village People as Trump enters Sardar Patel Stadium in Ahmedabad, which is packed with 110,000 Indians wearing white "Trump" hats pic.twitter.com/tJW08sNNDa

— Ryan Saavedra (@RealSaavedra) February 24, 2020
Later, President Trump, First Lady Melania Trump, Ivanka Trump and Jared Kushner visited the Taj Mahal. View a photograph of Trump and the First Lady posted by the New York Post below: 
Donald and Melania Trump marvel at Taj Mahal during India tour https://t.co/e5UjQR6fQv pic.twitter.com/zs0Gulb1Aj

— New York Post (@nypost) February 24, 2020
For Trump, this experience will bring a closer and more open trade and military relationship between the United States and India. Also, to court Indian-Americans who make-up a substantial part of the population in the United States. According to the Migration Policy Institute, 2.4 million Indian immigrants resident in the United States as of 2015. They mostly reside in the states of California, New Jersey and Texas.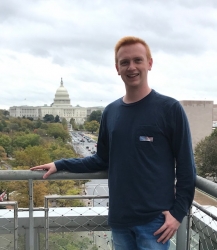 Latest posts by Connor Merk
(see all)