Hundreds of Black Lives Matter protesters gathered today in Louisville, Kentucky to mark a year since the death of Breonna Taylor, a 26-year-old black medic who was shot and killed during a police raid on her home.
The Louisville police department recently tweeted out that "protesters have been blocking the roadway and forcing vehicles, while armed, to turn around."
"We are deeming their actions as an Unlawful Assembly. Arrests will be made to those that refuse to disperse," the department added in the tweet.
A picture was also shared showing the mayhem taking place.
Some Twitter users who have listed that they live in the city have responded to the LMPD's tweet with various messages of support for the protesters and/or disdain for the police.
"Ctrl+violet" asked, "how do you spell racist?" She then answered "LMPD" with clap emojis.
how do you spell racist?

L👏M👏P👏D

— ctrl+violet (@AtomHeartMutha) March 14, 2021
Another local user, "Red Beard," simply replied by using an anti-police slur,"ACAB."
ACAB

— Red Beard (@502RedBeard) March 14, 2021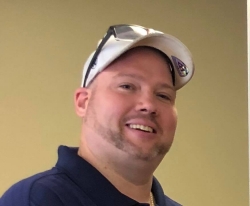 Latest posts by David Caron
(see all)