Attorney General Bill Barr was spotted today at a "Back the Police" rally in Northern Virginia. Vinson Palathingal, who is a State Central Committee representative, posted about the appearance on his Facebook page.
From Palathingal's Facebook post:
Wow… What a great support today for our "Back The Police" rally in McLean, Virginia. A lot more honks and tons of thumps ups when compared to 5 weeks ago.
I think people are becoming more and more impatient with the ongoing Marxist-Democrat violent protests!
And guess what? We had a very important guest today. #AttorneyGeneralBarr stopped his car, got out and spend few minutes with us.
Thank you #AttorneyGeneral for your show of support for Police, Law & Order, everything you to do to uphold order in our cities AND your efforts to control the deep state in DC!
Palathingal had a sign that said "Minorities Back Police" and "Immigrants Love Law & Order."
At the previous rally on June 29th, Palathingal posted a message that "No police means No safety. Let's save the safe and strong America that we came to embrace. We owe it to our children and grandchildren!"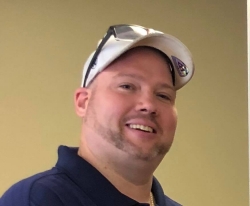 Latest posts by David Caron
(see all)