Yesterday, we reported that White House press secretary Jen Psaki claimed that it was Republicans and not Democrats who want to defund police by not voting for a particular piece of Biden Administration legislation when asked a question by Fox News' Peter Doocy about a statement made by Biden advisor Cedric Richmond.
We also noted that cities like Oakland, California continue to shift money away from the police as we reported yesterday as well, although some other cities have indeed reversed course from defunding.
Former NYPD commissioner Bernard Kerik rejected Psaki's claims and used the example that we reported on to support his claims.
Kerik tagged Psaki in a tweet where he shared a Breaking911 report on the budget cuts and pointed out, "FYI, The Oakland City Council are all Democrats, not Republicans."
"Don't say Republicans are defunding the police because that's a lie," Kerik added.
.@PressSec just FYI, The Oakland City Council are all Democrats, not Republicans. Don't say Republicans are defunding the police because that's a lie. https://t.co/77eQP4uS7P

— Bernard B. Kerik (@BernardKerik) June 29, 2021
Fox News transcribed the exchange between Psaki and Doocy and reported on what Richmond had said:
"Something one of the advisers said this weekend, Cedric Richmond, he said Republicans defunded the police by not supporting the American Rescue Plan," Fox News' Peter Doocy asked Psaki on Monday. "But how is it that that is an argument to be made when the president never mentioned needing money for police to stop a crime wave when he was selling the American Rescue Plan?"
"Well, the president did mention that the American Rescue Plan, the state and local funding, something that was supported by the president, a lot of Democrats who supported and voted for the bill, could help ensure local cops were kept on the beat in communities across the country. As you know, [it] didn't receive a single Republican vote. That funding has been used to keep cops on the beat," Psaki said.
"At the time, it was sold that local police departments might have pandemic-related budget shortfalls, not we need to keep cops on the beat because there's a crime wave," Doocy said.
"I think that any local department would argue that keeping cops on the beat to keep communities safe when they had to, because of budget shortfalls, fire police is something that helped them address crime in their local communities," Psaki said, later adding that "it was a pretty good bill and piece of legislation."
Biden advisor Cedric Richmond railed against Republicans on "Fox News Sunday."
"Let's talk about who defunded the police. When we were in Congress last year trying to pass a rescue plan — I'm sorry, not the rescue plan but an emergency relief plan for cities that were cash-strapped and laying off police and firefighters — it was the Republicans who objected to it. And in fact, they didn't get funding until the American Rescue Plan, which our plan allowed state and local governments to replenish their police departments and do the other things that are needed," Richmond said.

"So look, Republicans are very good at staying on talking points of who says defund the police, but the truth is, they defunded the police, we funded crime intervention, and a whole bunch of other things," he added.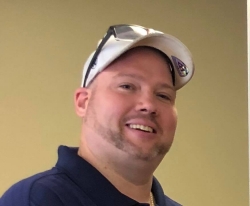 Latest posts by David Caron
(see all)