This morning, Texas Democratic gubernatorial candidate Beto O'Rourke attempted to distance himself from President Joe Biden during an interview with Dana Bash on CNN's "State of the Union."
Additionally, O'Rourke insisted that he stood by his previous statement where he declared, "Hell yes, we're going to take your AR-15."
Bash told O'Rourke that a recent poll showed that "Just 35% of Texans" approve of Biden's performance and asked, "Would you like the president to come and campaign with you?"
"This campaign in Texas is not going to be about Joe Biden, it's not going to be about Donald Trump, it's not going to be about anyone outside of our state, it's going to be about the people of Texas and what the people of Texas want," O'Rourke explained.
O'Rourke then brought up the electricity failure that occurred over the winter and claimed that the current GOP Gov. Greg Abbott hasn't done anything to prevent it from happening again.
That is patently false, however, as Abbott signed into law two sweeping overhauls over the summer that addressed key areas of improvement, such as the "weatherization" of power generators to prepare them for extreme weather.
Bash pressed O'Rourke again and he emphasized that he was only "focused on Texas," suggesting that there was no "politician" from outside the state that could change the outcome of the election.
Beto O'Rourke doesn't want Joe Biden campaigning for him in Texas. pic.twitter.com/hvRFnc2bR0

— Arthur Schwartz (@ArthurSchwartz) November 21, 2021
In regards to his goal to ban AR-15s, he was asked Bash if he would stand by the vow if elected governor of Texas, O'Rourke said, "Yes, I still hold this view."
O'Rourke asserted, "Look, we are a state that has a long, proud tradition of responsible gun ownership. And most of us here in Texas do not want to see our friends, our family members, our neighbors shot up with these weapons of war."
A video recently shared in a tweet shows a Hispanic rancher confronting O'Rourke at what appears to be a rally and taunting him with a "Come and take it" flag, triggering attendees.
The man then yells "Kyle Rittenhouse" multiple times before the end of the clip.
NSFW: Hispanic man tells Beto O'Rourky to go home and you ain't gettin' my gvns pic.twitter.com/YqUY42n29B

— 🇺🇸 ʟᴇғᴛ ᴄᴏᴀˢᴛ ᴠᴀɢʀᴀɴᴛ 🇺🇸 (@Baklava_in_CA) November 21, 2021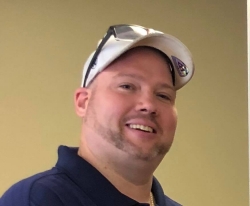 Latest posts by David Caron
(see all)