President Joe Biden's Energy Secretary Jennifer Granholm appeared today at the White House's daily press briefing to address the current gas shortages that are gripping parts of the nation.
In a clip that was shared by Newsbusters' Curtis Houck, Granholm is asked how the shortages "will speed up the efforts… to move in a more renewable direction?"
"Yeah I mean, we are obviously all in on making sure that we meet the president's goals of getting to 100% clean electricity by 2035 and net zero carbon emissions by 2050," Granholm responded with a smile.
Granholm then flippantly added, with a laugh, "If you drive an electric car, this would not be affecting you, clearly."
Houck said of the exchange, "Absolutely ghoulish. Never let a crisis go to waste!"
Absolutely ghoulish. Never let a crisis go to waste!

White House reporter eagerly asks Energy Secretary Granholm how these gas shortages due to the Colonial pipeline will help the administration push people toward accepting renewable energy. pic.twitter.com/2EYiHvtVdP

— Curtis Houck (@CurtisHouck) May 11, 2021
White House press secretary Jen Psaki said during the press briefing of the shortages, "The President continues to be regularly briefed on the Colonial Pipeline incident. The Administration is continually assessing the impact of this ongoing incident on fuel supply for the East Coast."
Psaki added, "We are monitoring supply shortages in parts of the Southeast and are evaluating every action the Administration can take to mitigate the impact as much as possible. The President has directed agencies across the Federal Government to bring their resources to bear to help alleviate shortages where they may occur."
From The Hill:
Colonial Pipeline expects to make a decision on fully resuming operations by the end of Wednesday after it was forced to shut down due to a ransomware attack, Energy Secretary Jennifer Granholm said.
Speaking at Tuesday's White House press briefing, Granholm noted that one of the pipeline's major lines had resumed normal operations under manual control.
"I have had several conversations with the CEO of Colonial, who has indicated that by close of business tomorrow, Colonial will be in a position to make the full restart decision, but even after that decision is made, it will take a few days to ramp up operations," Granholm said. "This pipeline has never been shut down before … it will take a few days to be up and running, but our interagency operation is going to be on it all the way."
"FERC [Federal Energy Regulatory Commission] is positioned to issue orders quickly to direct the pipeline to prioritize fuel to the areas that are most in need once the pipeline is up and running. We're looking at every option we have across the federal government and all of the agencies," she added.
Granholm said that "we expect that gas station owners are and should act responsibly" during the supply crunch. "We will have no tolerance for price gouging," she continued. 
The Energy secretary went on to acknowledge that in "these states that are impacted, even with the turning on of the pipeline, they may still feel a supply crunch."
She later elaborated that "the crunch is in the areas that are affected by the pipeline," predominantly the Southeast, such as southern Virginia, the Carolinas, Tennessee and Georgia.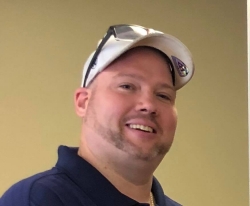 Latest posts by David Caron
(see all)