Rock and Roll Hall of Famer, Carlos Santana (74) passed out on stage last night during his performance in Clarkston, Michigan. The performance was at an outside amphitheater, and it has been reported that the world-famous guitarist was dehydrated and had heat exhaustion.
Santana as well as his team released statements on Facebook last night after the incident.
Santana wrote:
"to one and all – thank you for your precious prayers – Cindy [his wife] and I we are good just taking it easy – forgot to eat and drink water so I dehydrated and passed – out blessings and miracles to you all"
His team announced that he was okay as well and the changes that have been made to the tour schedule as a result of his heat exhaustion.
"From Team Santana: Rock Legend Carlos Santana was over-taken by heat exhaustion and dehydration during a concert Tuesday (July 5) evening in Michigan. The guitar great was taken from his show in Pine Knob Music Theatre (formerly DET Energy Music Theatre), an outdoor amphitheater in Clarkson, some 40 miles northwest of Detroit, Michigan.
Carlos was taken to the emergency department at McLaren Clarkson for observation and is doing well, it was announced by Santana's manager Michael Vrionis tonight. "The show with Earth, Wind & Fire for tomorrow July 6th at The Pavilion at Star Lake (formerly the S&T Bank Muskc Park) in Burgettstown, PA will be postponed to a later date. More details to follow thru Live Nation," Mr. Michael Vrionis added."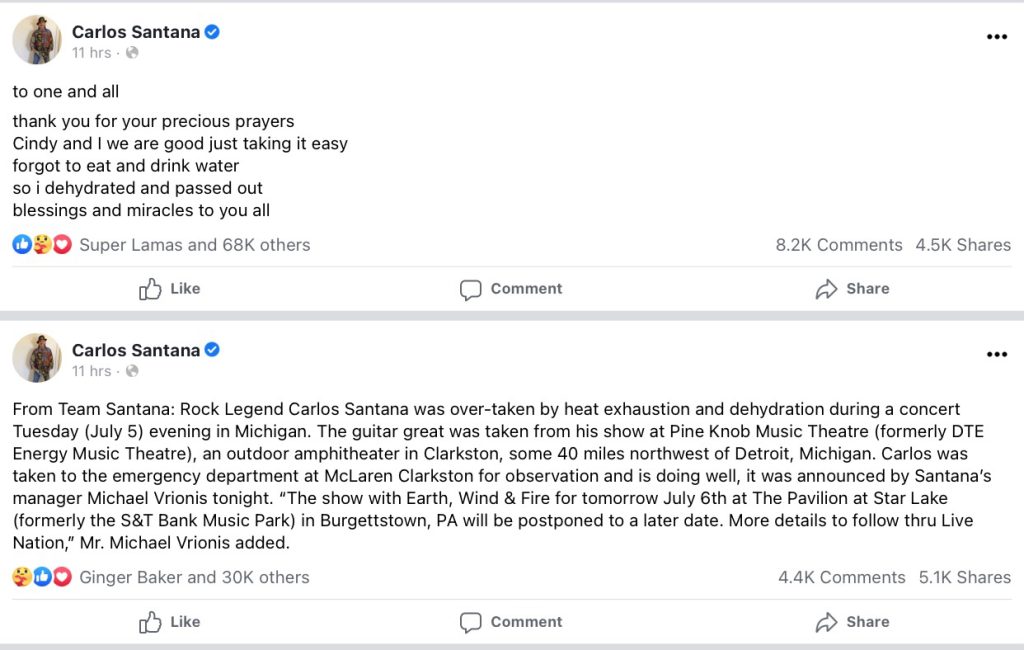 Twitter user The Last Show – Karen Lee shared two videos from Santana's performance last night.
One video shows Santana sitting down on the elevated part of the stage someone from behind the stage comes out and it becomes apparent that Santana had passed out.
The Second video shows Santana walking off stage with the audience applauding that the legendary guitarist seems to be okay.
The moment music legend Carlos Santana collapsed from heat exhaustion on stage at a concert in Michigan. He has recovered per a statement made by his rep.#CarlosSantana #collapse #concert #Michigan #guitar #guitarist#music #heatexhaustionpic.twitter.com/gB5IxGPb2X

— The Last Show- Karen Lee (@thelastshow) July 6, 2022
Santana rose to fame in the late 1960s. 'Rolling Stone' listed him at number 20 in their list of 100 greatest guitarists. He was inducted into the Rock and Roll Hall of Fame in 1998, he also has a star on the Hollywood Walk of Fame. Santana has won 10 Grammy Awards and 3 Latin Grammy Awards. He was named Man of the year in 2010 at the VH1 awards.
Santana continues to put out new music and has collaborated with numerous artists such as Chris Stapleton, Rob Thomas, and Steven Tyler just to name a few.
We are relieved to hear that Santana is doing well and getting some well-needed rest. It appears he will be touring through the end of August and then will take up a short residency at the House of Blues in Las Vegas from September to the middle of November.
Latest posts by Kay Williamson
(see all)