Charlottesville, Virginia Mayor Nikuyah Walker has issued a statement concerning the events occurring this week in Minnesota following the death of George Floyd while in the custody of police officer Derek Chauvin on Monday.
She refers to the death as a "lynching" and said that it "follows an infinite history of white brutality against Black Lives." She also claims that "white people have failed to see us as human."
Full statement:
The lynching of George Floyd follows an infinite history of white brutality against Black Lives. From the time that bodies were stolen from the coasts of Africa to present day, white people have failed to see us as human.
We have been labeled something other than human for so long that the ability to breathe is constantly decided by white officers to not be a physiological human right for Black people.
I saw Tamir Rice shot to the ground in a second because officers decided he was undeserving of breath. In the past month, we've also witnessed Breonna Taylor's breath stolen from her by an officer blindly shooting into her home as she breathed in her sleep. We've watched as Ahmaud Arbery's breath was stolen while exercising his right to breathe, taking months of activism to breathe life into demands for justice, until we ultimately learned of his story.
And we watched as George Floyd's breath was stolen after violently being smashed into a piece of earth with a police officer's knee in his neck while slowly being raped of his breath.
The saddest image over the past month has been that of Tye Anderson's 90-year-old grandmother falling over him or being pushed onto him in an effort to protect his breath. If you look, you will find the names of other people who have had their breath snatched from them under the guise of justice.
As the Mayor of the City of Charlottesville, I denounce this evil brutality. There is nothing just about the murder of innocent people. There is nothing just about the "shoot first, think later" mentality that is so pervasive in police departments across this country.
There is nothing just about the devaluation America has placed on Black Lives and the constant danger it puts us in. To my Black people: I see you. I grieve with you. I breathe fear with you. And I will continue to fight for us and demand that white America stop murdering, stealing, and restricting our breaths.
In this moment, I breathe with you in honor of all those who have had their breath stolen. I will protect your breath from my little corner of the world and continue to implore others to do the same. Breathe!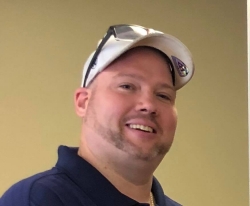 Latest posts by David Caron
(see all)